RECIPES
Roasted Corn with Feta and Grilled Watermelon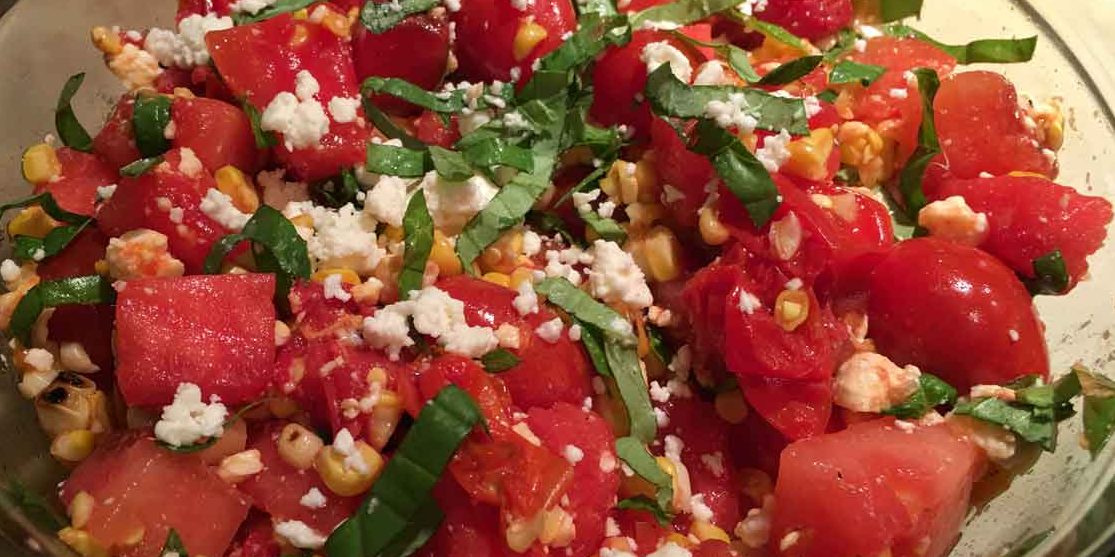 Experience the savory side of watermelon with this refreshing, seasonal side dish.
The surprise ingredient in this dish — grilled watermelon — lends a bright freshness to this dish. Grilling mellows the flavor, which blends perfectly with the other ingredients. Great for a picnic or backyard barbecue. 
Ingredients
6 medium ears of sweet corn
2 1-in thick slices cut from ½ a medium, seedless watermelon
1 10-oz package of grape or cherry tomatoes
1 6-oz package crumbled feta cheese
¼ cup (packed) fresh basil leaves
¼ cup good olive oil
2 tbsp strawberry or other fruit-flavored vinegar
Pinch of salt
YOU MIGHT ALSO LIKE: Grilled Shrimp Tacos with Fruit Salsa
Directions
Preheat grill to medium-high heat. Preheat oven to 400oF. 
Arrange cherry tomatoes on baking sheet and drizzle with some of the olive oil and salt. Place tomatoes in preheated oven and roast for 10 minutes, stirring once half way through.
Shuck and de-silk corn. Place on grill, turning frequently until just charred on all sides, about 5 minutes. When cool enough to handle, use a sharp knife to slice kernels from cob and place in a bowl.
Grill watermelon just enough to get some good grill marks, turning once, about 5 minutes. When cool enough to handle, cut from rind and dice into ½- to 1-inch squares. Set aside ½ cup of diced watermelon, adding remainder to the bowl with the corn.
Stack basil leaves and slice into thin ribbons. Add basil, feta, and roasted tomatoes to the bowl.
Using a hand-held or regular blender, emulsify remaining olive oil, vinegar, and reserved watermelon. Pour over the contents of the bowl, toss, and serve.
Serves 6
Each serving has approximately 240 calories, 12 g fat (19 percent DV), 25 mg cholesterol (8 percent DV), 279 mg sodium (12 percent DV), 29 g total carbohydrate (10 percent DV including 15 g sugar). Also high in vitamin C (35 percent DV) and vitamin A (25 percent DV).
The percent daily values (DV) are based on a 2,000 calorie diet. Your values may change depending on your calorie needs.
Updated: &nbsp
September 08, 2016