RECIPES
Fish in Parchment with Vegetables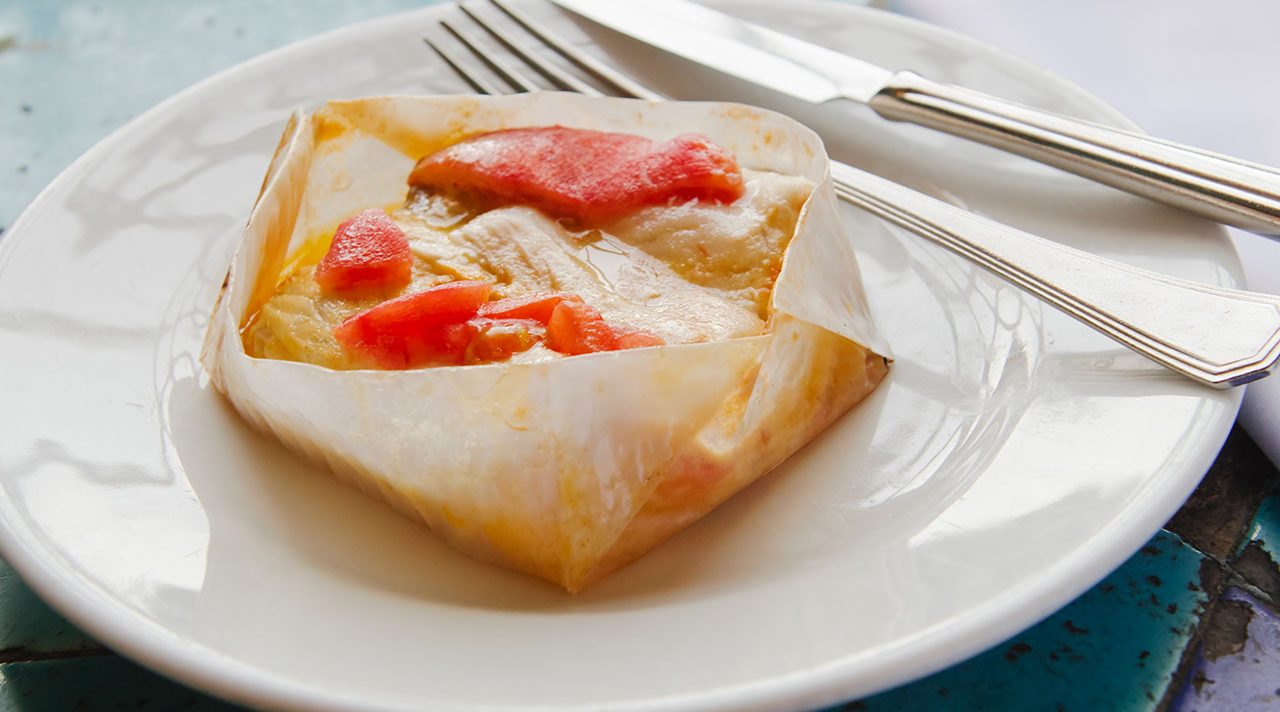 This versatile one-packet meal is quick, easy, healthy, and oh so delicious!
All summer I enjoy cooking fish on the grill. When winter rolls around and cooking outdoors is no longer an option, I'm left looking for easy preparations to keep fish as a regular part of my diet. The ingredients in this recipe are versatile, and the preparation lends itself to whatever kind of fish you like, paired with whatever you have in your refrigerator. Get creative!
For this recipe I used cod, which is very mild and will take on the flavors of whatever you cook it with, but halibut or salmon would also work.
A bonus is the fact that you have a complete meal all in one packet. One packet is enough for two people, or make more depending on how many you are serving. You can also cut the recipe in half if you are cooking for one. Using foil and parchment makes cleanup a snap.
YOU MIGHT ALSO LIKE: Pumpkin Apple Spice Soup
Ingredients
1 lb of cod 
2 medium red potatoes
2 medium carrots
1 large shallot
4 cups (about 2 big handfuls) fresh spinach-arugula mixture (or just spinach)
3-4 sprigs fresh thyme
1-2 sprigs fresh basil
2 tbsp olive oil
Salt and pepper to taste
Zest from one lemon plus slices
Splash of white wine (optional)
YOU MIGHT ALSO LIKE: Smashed Carrots and Cauliflower
Directions
Preheat oven to 400. Wash and thinly slice potatoes. Line a large baking sheet with foil. Arrange potatoes in a single layer, brush with some of the olive oil, and season with salt and pepper. Turn the potatoes over and repeat. Place in oven for about 10 minutes or until potatoes start to get soft. You don't want to cook them all the way through. 
While the potatoes are cooking, thinly slice the shallot. Wash and peel the carrots, cut in half lengthwise, lay them on their flat side and thinly slice across on a diagonal. 
Remove potatoes from oven and maintain temperature. 
Take a roughly 18-inch-long piece of parchment and fold it in half. 
Transfer the potatoes to the center of one half of the parchment, arranging in a single layer (OK to overlap a bit).
Arrange the shallot slices on top of the potatoes. 
Distribute carrot slices over the shallots. 
Place your greens in a mound over the carrots. 
Drizzle the stack with a little olive oil and season with salt and pepper. 
Place the fish on top of the greens.
Zest the lemon over the fish. Season with a little more olive oil, salt, and pepper.
Arrange the whole sprigs of basil and thyme on top. Place 4 or 5 thin slices of lemon on top and splash with white wine (about a tablespoon).
Fold the other half of the parchment over the fish and vegetables. With the fold in the paper on your left, and starting at the side away from you, fold the parchment a couple of times toward the fish. Fold the top right corner in diagonally a couple of times. Continue folding around the packet until it is completely sealed. You can use binder or paper clips to make sure your packet doesn't unfold during cooking. You don't want steam to escape.
Put the packet on the foil-lined cookie sheet and place it in the oven. After 10 minutes, reduce heat to 350. Cook another 15 to 20 minutes, depending on the thickness of your fish. You'll know it' done when you can hear it simmering in the packet, you can smell it, and the parchment starts to brown.
Remove packet from oven and carefully unfold parchment. Discard basil and thyme. Serve directly from the packet with lemon as garnish. Enjoy!
Serves 3. Each serving contains about 311 calories, 10 g fat (1 g saturated), 65 mg cholesterol, 131 mg sodium, 31 g carbohydrate, 31 g protein. This dish is also high in potassium and vitamin A.
Updated: &nbsp
February 05, 2016