What is YourCareEverywhere? 
In an age when healthcare can often seem complex and confusing, we believed there had to be a better way to take hold of everything important in your "health world."  A better, smarter way to:
Stay up to date on meaningful health and wellness information  
Consolidate and understand health and activity data from your apps and devices
Access your medical records and patient information
Be in control of your health … all of the time
Introducing YourCareEverywhere, a unique health and wellness solution designed to help you manage your health world. Here you are can:
Read, share, and interact with deep, trusted content and resources on health and wellness topics important to you
Record, track, and share the health and activity data you collect through apps, devices, or wearables like Fitbit, Jawbone, Garmin, or a glucometer  
Access medical information in your secure patient portals, whether with your primary care physician or hospital, or other health providers important to you like your dentist or a specialist
Customize your own My Wellness Dashboard to aggregate all aspects of your health world in one place
Take advantage of an easy-to-use YourCareEverywhere mobile app (available in Apple iOS and Android) to access information important to you anywhere, anytime
A Different Approach 
Health information is typically highly fragmented with few ways to see it all in one place.  When we designed YourCareEverywhere.com, we wanted to help solve this problem. We wanted a solution that enabled a complete view into one's personal health world.  A solution that encompassed all of the tools, portals, and devices where health information lives - the key information needed to really be in control of your health and wellness. 
But our solution is more than just a website. It's a digital solution powerful enough to support all of the important things found in your health world so you can stay knowledgeable and focused on your personal health goals and more. It's your personal health platform to grow as you need it to, as changes in your life occur.  
Most of all, we created YourCareEverywhere for people like you. People like us. People who share similar needs and concerns about health. People who want to be active in creating their version of a better, healthier life.
We Understand the Challenges
Like you, we are trying to manage our health world while carrying on day-to-day life.
Like you, we have children or aging parents who may need us to help them manage their conditions and medications and specialists.
Like you, we use a variety of devices and apps to help us monitor and track our activity that create a lot of information in different places.
As a result, we are passionate about helping people overcome these challenges with knowledge and confidence and offering a new solution that makes managing health easier.
YourCareEverywhere + YOU = Health and Wellness Simplified 
With YourCareEverywhere, we streamline the process of managing and organizing your health world. From access to relevant, timely content, to consolidated device, app, and patient portal information, to a personalized My Wellness Dashboard, your health world has never looked so good.  
We believe that health happens everywhere you are and YourCareEverywhere helps you simplify access to all of the things important to your health and wellness life.
Be Smarter. Be Connected. Be Well.
Get started organizing your health world at YourCareEverywhere.  Click here to create your account and set up your personal My Wellness Dashboard. 
Learn about our content syndication plugin, to recieve all of our latest content on your site.
And remember to download the YourCareEverywhere App!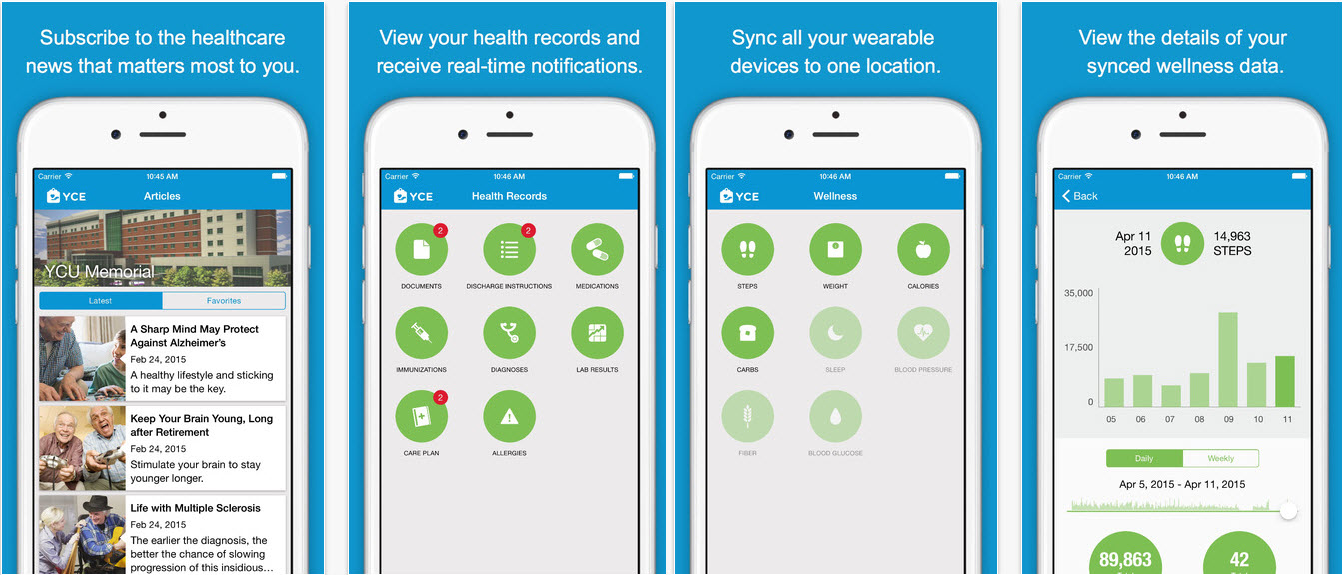 Who We Are
YourCareEverywhere is a solution offered by MEDHOST Cloud Services, Inc., a MEDHOST company. Based in Franklin, Tenn., and founded in 1984, MEDHOST is a group of healthcare technology companies providing enterprise, departmental, and healthcare engagement solutions to more than 1,100 healthcare facilities nationwide.
YourCareEverywhere content is medically reviewed and updated in collaboration with experienced consumer health writers and editors. Our health information is created using the best available evidence from national guidelines, health associations, government organizations, and peer-reviewed literature, with links to sources.
Updated: January 24, 2017