RECIPES
Grilled Shrimp Tacos with Fruit Salsa, Bean and Avocado Schmear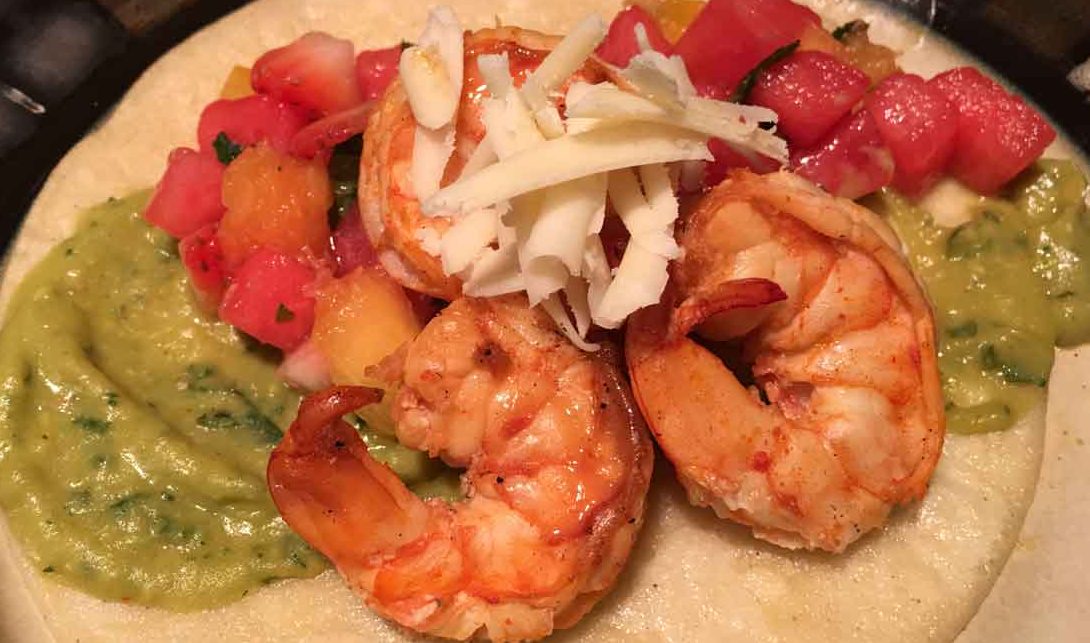 Minimal cooking gets you out of the kitchen to enjoy these light and refreshing summer tacos.
Ingredients
1 lb medium shrimp, peeled and deveined
½ cup shredded white cheddar cheese
Corn tortillas
Marinade
Jalapeno jelly
3 limes
½ cup white wine
2 tsp ground cumin
2 tsp chili powder
2 tbsp olive oil
Schmear
1 can cannellini beans, rinsed and drained
1 ripe avocado
1 tbsp fresh mint leaves
2 tsp cumin
2 tsp chili powder
1 tsp olive oil
1 tsp lime juice
Salsa
½ ripe peach cut into ½-inch dice
½ yellow bell pepper cut into ½-inch dice
1 cup seedless watermelon cut into ½-inch dice
6 medium strawberries, diced
1 tbsp fresh mint leaves, finely chopped
YOU MIGHT ALSO LIKE: Purple Slaw with Pecans and Apples
Directions
Start by marinating the peeled shrimp. Add ¼ cup of the jalapeno jelly (I used Fire Roasted Mira Sol Chile Jammin' Jelly from www.haciendamaize.com, but use what you like) to a zip top bag along with the rest of the marinade ingredients. Mix together. Add the shrimp and let marinade at least 30 minutes up to several hours, turning the bag every so often.
Add all ingredients for the salsa to a bowl. Squeeze the juice of one lime over the mixture and gently stir. Put salsa in a strainer over a bowl and allow to drain so salsa isn't too wet. Set aside.
Into a food processor add ½ the cannellini beans, ½ the avocado, and the rest of the schmear ingredients. Pulse until a smooth paste is formed. Taste and adjust ingredients to get the taste and texture you like. Set aside.
Preheat grill to medium-high heat. Transfer shrimp from marinade to skewers. Put skewers on preheated grill for 4 to 5 minutes or until shrimp are pink and opaque. Turn once.
Shred the white cheddar. Heat tortillas in a damp towel in the microwave, or (this is my preference) make them to order heating one at a time in a small skillet with cooking spray over high heat. 
Assemble the tacos by spreading schmear on the tortilla. Schmear on some of the jalapeno jelly if you're feeling adventurous. Add fruit salsa, grilled shrimp, and top with white cheddar. Yummy!
Serves 6 (two tacos each)
Each serving (two tacos) contains approximately 290 calories, 9 g fat, 170 mg cholesterol, 853 mg sodium, 31 g carbohydrate (including 5 g sugars), 23 g protein (47% DV), and 66 percent DV of vitamin C.
The percent daily values (DV) are based on a 2,000 calorie diet. Your values may change depending on your calorie needs.
YOU MIGHT ALSO LIKE: Barley Salad with Pickled Cabbage, Watercress, and Arugula
Updated: &nbsp
July 26, 2016