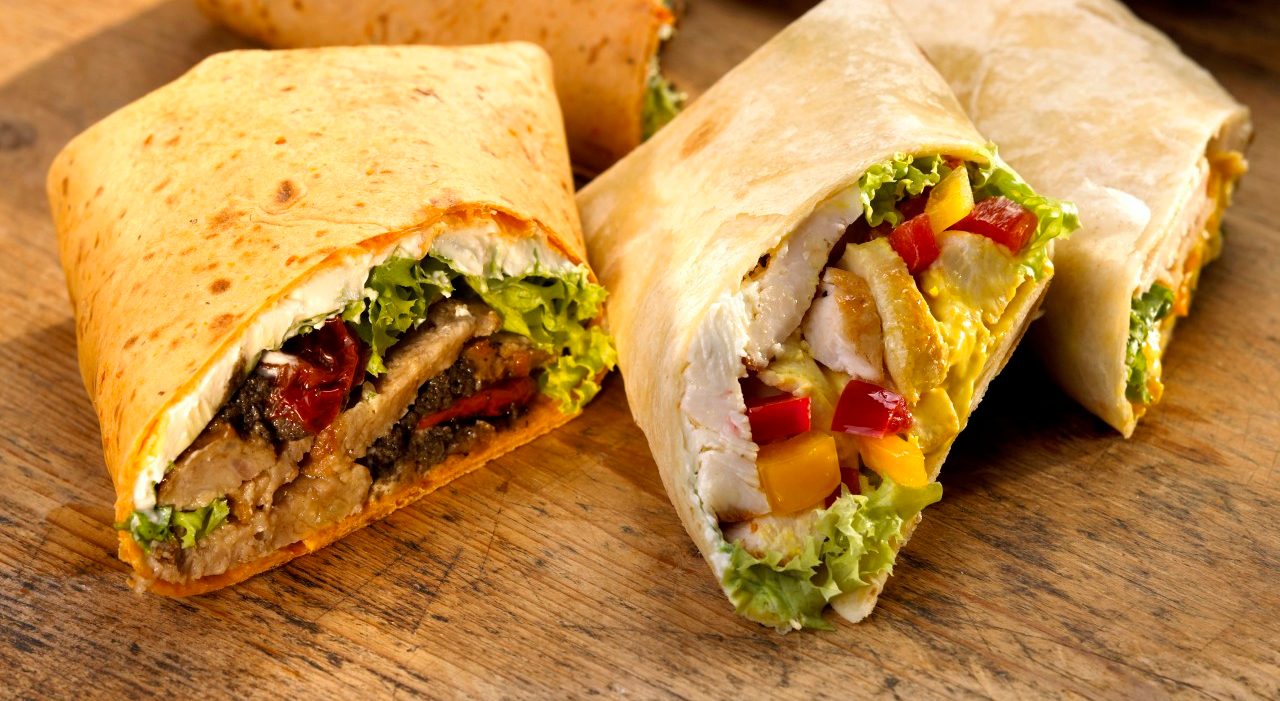 Sometimes having a family meal just isn't on your full plate. Try these quick and easy recipes to keep your kids eating healthy, even when you're all on the go.
The goal is to serve your family fresh, healthy meals made from scratch. But by the time you're done carting the kids to sports practices and music lessons, play dates and afterschool clubs, there's little free time left for cooking.
To make mealtimes easier, Your Care Everywhere has assembled a few of the best quick and healthy recipes from around the Web. These meals are not only high in nutrition and low on effort, but they're also super kid friendly.
YOU MIGHT ALSO LIKE: How to Find a Healthy Lunch at School
Breakfast
Breakfast is considered the most important meal of the day, but it's also the most rushed. Save time without skimping on nutrition with these two easy recipes.
Yogurt fruit salad
This recipe is high in bone-building dairy, and it incorporates a couple servings of fruit. To make your prep even easier, cut the fruit the night before.
Ingredients:
½ cantaloupe melon
1 cup red grapes, halved
2 cups fresh strawberries, quartered
2 cups yogurt (your choice: Great with maple, vanilla, or strawberry yogurt)
Add all ingredients into a big bowl.
Mix until fruit is coated with yogurt.
Serve.
Breakfast burrito
This burrito packs enough protein to keep your kids focused in school, and it sneaks in a few vegetables, too.
Ingredients:
1 whole flour tortilla
1 serving scrambled eggs
2 Tbsp grated reduced-fat cheese
1 Tbsp salsa
1/4 cup refried beans
1/4 cup tomatoes, chopped
Warm a flour tortilla in the microwave oven for about 20 seconds (or wrapped in foil in a warm oven for about 10 minutes).
Scoop the scrambled eggs onto the middle of the warm tortilla. Top with some grated cheese and a spoonful of salsa (you choose the hotness of the salsa), some beans, lettuce, tomatoes, and whatever else you want.
Fold up the bottom, roll in the two sides, and enjoy.
Lunch
These recipes are portable enough for kids to take to school, or wherever else they go.
Crunchy Hawaiian chicken wrap
These wraps are packed with so much flavor — sweet, tart, savory — your kids will have no idea how many vegetables are in there.
Ingredients:
6 whole-wheat tortillas
1 ½ cups broccoli slaw (you can buy this pre-made at the supermarket)
1 cup spinach leaves, chopped
¼ cup crushed and drained canned pineapple
1 pound cooked chicken, diced
¼ cup low-fat mayonnaise
¼ cup vinegar
¼ cup sugar
1 teaspoon poppy seeds
1 ½ teaspoon garlic powder
1 ½ teaspoon onion powder
1 ½ teaspoon chili powder
Prepare dressing by whisking mayonnaise, vinegar, sugar, poppy seeds, garlic powder, onion powder, and chili powder together. Set aside in refrigerator.
Mix broccoli slaw, drained pineapple, and spinach.
Put ½ cup of the broccoli/pineapple/spinach mixture on a wheat wrap.
Top with chicken.
Add 1 tablespoon dressing to each tortilla.
Wrap tortillas, burrito style. Cut on diagonal. Serve immediately or refrigerate.
Pizzadillas with red sauce
Kids love pizza — it's in their DNA — and it doesn't always need to be bad for them. Swap out the thick white pizza crust for a whole-wheat tortilla and add some spinach, and both you and your kids will be happy.
Ingredients:
4 whole-wheat tortillas (8 inches)
2/3 cup fresh or frozen spinach, finely chopped
2/3 cup part-skim mozzarella cheese, shredded
1 cup marinara sauce (store-bought or homemade)
Cooking spray
Lay 2 tortillas on a flat surface. Divide spinach and cheese between the tortillas.
Top with remaining 2 tortillas.
Place skillet over medium heat. Lightly coat pan with cooking spray.
Gently slide 1 pizzadilla into the pan and cook until light golden brown on one side (about 1-2 minutes).
Using a thin spatula, gently flip over the pizzadilla and cook for 30 to 60 seconds more or until cheese is fully melted.
Remove pizzadilla and cut into triangles. Repeat with remaining pizzadilla.
Serve with marinara sauce for dipping.
You can wrap and refrigerate leftovers to take to school for lunch.
Dinner
If the last thing you want to do at the end of the day is cook, try these easy recipes, which you can assemble in the morning or the night before.
Crock pot veggie lasagna
Even better than the simplicity of this recipe is the number of vegetables it hides between layers of pasta and cheese.
Ingredients:
2 cups zucchini, broccoli, cauliflower, mushrooms and/or spinach
1 15 oz. container ricotta cheese
1/2 cup parmesan cheese, grated
1 tablespoon dried Italian herbs
1/2 teaspoon garlic powder
1 teaspoon kosher salt
1 large egg
1 25 oz. jar pasta sauce
1 box lasagna noodles (uncooked)
2 cups mozzarella cheese, grated
Place the vegetables in a food processor and pulse to roughly chop.
Place the ricotta, parmesan cheese, herbs, garlic powder, salt, and egg in a bowl and stir to combine.
Pour half of the pasta sauce in the bottom of a crock pot.
Place a layer of noodles on top of the sauce, covering the entire surface, breaking the noodles to fit the pot.
Layer half of the ricotta mixture on top of the noodles, followed by 1 cup of the chopped vegetables and then one cup of mozzarella cheese.
Repeat with another layer of noodles, followed by the remaining ricotta mixture and the chopped vegetables.
Pour the remaining pasta sauce on top of the lasagna and top with the remaining cup of the grated cheese.
Cook on low for 4 hours.
Serve.
Creamy Greek yogurt mac & cheese
This recipe lightens up a childhood favorite by adding yogurt, plus it sneaks in some spinach.
Ingredients:
8 oz. (about 2 cups) elbow pasta (you can use whole wheat)
8 oz. (about 2 cups) shredded cheese (a sharp cheddar is great)
1/2 cup plain Greek yogurt
2 cups fresh spinach
Salt and pepper, to taste
1/4 tsp. onion powder
1/4 tsp. garlic powder
Cook the macaroni according to the package's instructions (about 8 to 10 minutes), until al dente.
Place the spinach leaves in the bottom of a strainer, and pour the pasta over top to drain and wilt the spinach. Save about 1/2 cup of the pasta water. Return the cooked macaroni and wilted spinach to the pot.
Add about 1/4 cup of the reserved pasta water to the pot, and stir in the cheese until melted. Stir in the Greek yogurt, onion powder, garlic powder, salt, and pepper, until smooth and creamy. Stir in the remaining pasta water to thin, if necessary. Serve immediately.
Dessert
You want your kids to finish their veggies, but they're clamoring for dessert. Satisfy both their sweet tooth and your urge to make them eat their greens, by incorporating vegetables into their favorite confections.
Chocolate avocado pudding
Avocado adds such a rich creaminess to pudding that your kids will have no idea how much healthy monounsaturated fat they're eating. Plus, this recipe is gluten- and dairy-free for kids with dietary restrictions.
Ingredients:
3 ripe bananas
2 avocados, peeled and pitted
6 tablespoons unsweetened cocoa
1 teaspoon vanilla
Place bananas and avocados into a food processor or blender, and blend until smooth.
Add the cocoa powder and vanilla, and blend until thoroughly combined.
Divide into four single-serve cups.
Refrigerate for at least 2 hours before serving.
Black bean brownies
Brownies are one of the easiest desserts in which to hide vegetables, and using black beans makes them extra fudgy.
Ingredients:
1 (15.5 oz.) can black beans, rinsed and drained
3 eggs
3 tablespoons vegetable oil
1/4 cup cocoa powder
1 pinch salt
1 teaspoon vanilla extract
3/4 cup white sugar
1 teaspoon instant coffee (optional)
1/2 cup milk chocolate chips (optional)
Preheat oven to 350 °F. Lightly grease an 8×8 square baking dish.
Combine the black beans, eggs, oil, cocoa powder, salt, vanilla extract, sugar, and instant coffee in a blender; blend until smooth. Pour the mixture into the prepared baking dish. Sprinkle the chocolate chips over the top of the mixture.
Bake in the preheated oven until the top is dry and the edges start to pull away from the sides of the pan, about 30 minutes.
Updated: &nbsp
January 24, 2023
Reviewed By: &nbsp
Janet O'Dell, RN