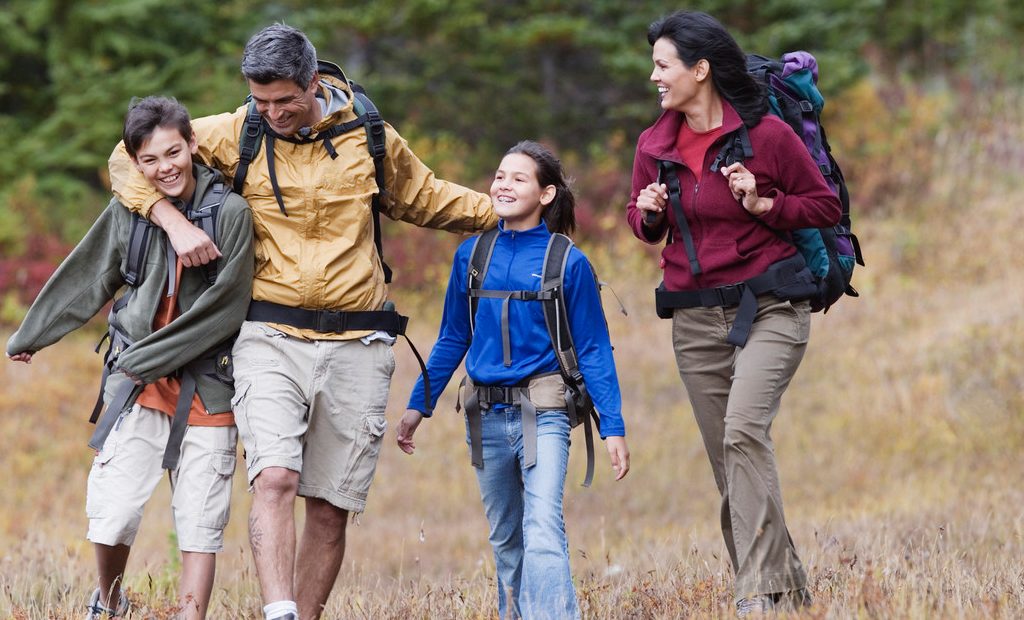 Plan a family vacation that's both fun and healthy.

The school buses have barely started rolling and kids are already clamoring for their next vacation. That first school break will be here before you know it. Have you planned your family trip yet?
Family getaways are often a time for indulgence. You sleep late (if your kids will let you), eat rich foods, and lounge by the pool. And if you're not careful, the whole family brings home a few extra pounds around the middle — not the ideal souvenir.
Vacations don't have to be about excess. Instead, you and your kids can use the time away to focus on fitness and good health habits. Here are a few vacation ideas that are both fun and good for your whole family. Many of them are also budget-friendly.
Indoor water park
You don't need warm weather or an ocean to have a waterside vacation. Great Wolf Lodge and other enclosed water parks bring the beach indoors, and provide ample opportunities for exercise. They're filled with stairs to climb, slides to ride, and waves to jump. Your kids will burn hundreds of calories an hour, but they'll be having way too much fun to notice.
Fall festivals
The air is crisp and the leaves are turning, which makes fall a perfect time to head out to the countryside for a day or weekend trip. Fall festivals across the Northeast and in other parts of the country feature activities like apple picking, hayrides, and corn mazes.
Camping
If your family is outdoorsy, take advantage of the last few weeks of comfortable weather and go camping. Depending on how rustic you want the experience to be, you can pitch a tent out in the woods, or stay at a full-service campground complete with a bathroom, hot tub, and playground.
Resort vacation
Fall is off-season for many Caribbean resorts, so they offer deep discounts to entice travelers into booking. Take advantage of the deals. Choose a resort that has plenty of activities for kids — like snorkeling, water slides, climbing walls, and volleyball. Some resorts even offer extra perks, such as circus school and kids' camp.
National park
Save money on your vacation — and give your kids a chance to unplug from their electronics — with a stay at one of our nation's national parks. Parks offer a bounty of family-friendly activities, from hiking to white-water rafting to horseback riding. Plus they have some of the best views of any vacation spot.
City sightseeing tours
Instead of getting away from it all, head into the big city. Washington, D.C., New York City, San Francisco, Chicago, San Antonio, New Orleans, and Boston all top Family Vacation Critic's list of the Best Cities for Family Vacations. Choose a city that's packed with historical and cultural sights your family can tour on foot or bicycle.  
Staycation
Who says you need to get on an airplane — or even into a car — to take a vacation? Create your own resort experience right at home. Hike through a nearby park, go for a bicycle ride on a local trail, or plan a scavenger hunt through your town. Even if you've lived there for years, you can always find something new to explore.
Staying healthy on your trip
Nothing can end a family vacation faster than a car-full of sick kids. To keep the whole family healthy for the duration of your trip, pack plenty of hand sanitizer, suggests Claire McCarthy, MD, a pediatrician at Boston Children's Hospital. "Frequent hand washing is absolutely the best way to prevent the infections that can mess up a vacation," she says.
While you're away, encourage your kids to sample the local cuisine without overindulging. Stay away from buffets and all-you-can eat restaurants. Instead, share meals so everyone gets to try different foods but no one eats too much. Save money — and calories — by bringing your own snacks for long car and plane trips. Grapes, whole-wheat crackers, and nuts are both healthy and portable. Keep kids hydrated wherever you travel by bringing along refillable water bottles.

Updated: &nbsp
August 03, 2021
Reviewed By: &nbsp
Christopher Nystuen, MD, MBA