RECIPES
Purple Slaw with Pecans and Apples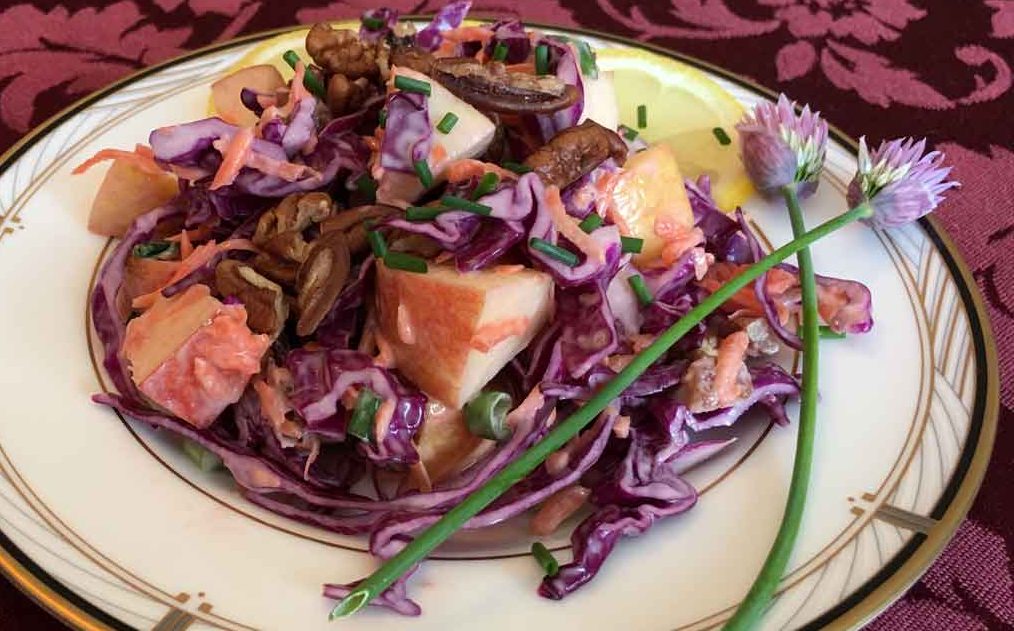 If you're trying to "eat the rainbow" this salad will get you closer to the pot of gold
As picnic and backyard barbecue season approaches, why not try this fresh take on a warm-weather favorite?
YOU MIGHT ALSO LIKE: Barley Salad with Pickled Cabbage, Watercress, and Arugula
Ingredients
½ a medium head of purple cabbage, sliced thin
3–4 scallions sliced thin
2–3 medium carrots, shredded
1 apple, cored and cut into bite-sized dice
½ cup toasted pecans or almonds
Juice of ½ a lemon
1 tablespoon of honey
¾ cup light mayonnaise (more or less to achieve the consistency you like) 
1 tablespoon apple cider vinegar
Dash of hot sauce
Directions
Toast pecans in a dry skillet for 3 to 4 minutes over medium-high heat until they become fragrant and start to brown. Set aside. Core cabbage half and slice into ribbons. Place in a large bowl. Add scallions, carrots, apples, and pecans and toss together. In a small bowl, whisk together lemon juice, honey, mayonnaise, vinegar, and hot sauce. Taste and adjust ingredients to your liking. Pour over salad and mix well. If eaten immediately the salad has a wonderful crunchiness, but it's just as delicious the next day.
Serves 6
Each serving contains approximately 205 calories; 17 g of fat, 20 mg cholesterol, 193 mg sodium, 13 g of carbohydrate (3 g of dietary fiber or 10% DV), and 32 percent DV of vitamin C.
Percent daily values (DV) are based on a 2,000 calorie per day diet. Your personal caloric needs may be higher or lower.
YOU MIGHT ALSO LIKE: Grilled Shrimp and Scallops with Linguini, Spring Peas, and Pine Nuts
Updated: &nbsp
July 01, 2016