RECIPES
Grilled Shrimp and Scallops with Linguini, Spring Peas, and Pine Nuts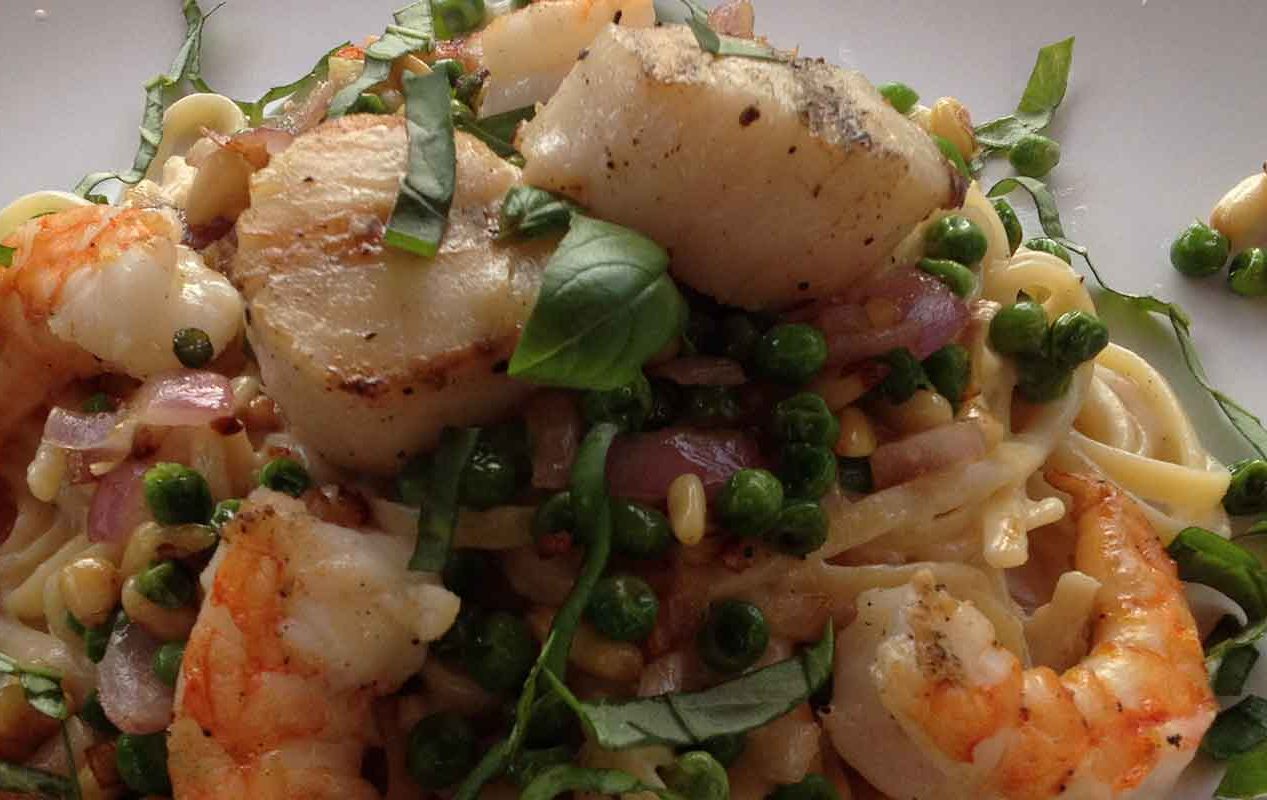 This beautiful dish is light, fresh, and colorful, providing a perfect excuse to pull the cover off your grill and incorporate more healthy seafood into your diet.
The availability of fresh peas is one of the heralds of spring, but this dish can also be made with frozen peas anytime.
YOU MIGHT ALSO LIKE: Creamy Chicken and Broccoli
Ingredients
6 large sea scallops
8 large shrimp, peeled and deveined
4 oz dry linguini (a 1-pound box yields eight 2-oz servings, so use ¼ of the box for two 2-oz servings)
2/3 cup fresh or frozen baby peas
1/4 cup pine nuts, toasted
1 tbsp olive oil
Salt and pepper to taste
1/3 cup chopped red onion
1 clove garlic, minced
Splash (1/4 cup) white wine
1/4 cup shredded parmesan
6 to 8 large fresh basil leaves
Directions
Bring a pot of well-salted water to a boil and preheat your grill. This dish comes together fast, so it's best to have all of the ingredients ready before you start cooking. While you're waiting for the grill and water to heat up, arrange four of the shrimp so they are flat in "C" shape. Run one wooden skewer through the right side of four shrimp, and a second skewer, parallel to the first, through the left side of the shrimp. Repeat for the other four shrimp. Lay the scallops flat and run two skewers parallel through the right and left side of three scallops, repeating for the other three. This makes turning easy and prevents your food from falling through the grate. Season with salt and pepper and keep in your refrigerator until ready to cook. 
Chop the onion and mince the garlic. Toast the pine nuts in a small dry skillet over medium high heat until they're golden and fragrant. Make a stack with your fresh basil leaves, rolling them up from stem to tip creating a little basil "cigar." With a sharp knife, slice the cigar into 1/8-inch ribbons.
When water comes to a rolling boil add the pasta, stirring occasionally, and cook until almost done, 10 to 12 minutes. The pasta will cook a little more in the skillet before you're done, so don't overcook it.
While the pasta is cooking, add the olive oil to a medium-sized non-stick skillet over medium high heat. When the oil is hot, add the onions and sauté until translucent, 3 to 4 minutes. Add the minced garlic and sauté until fragrant, about one minute. Deglaze the pan with the white wine, allowing some of the liquid to evaporate. Remove from heat.
When the pasta is about half-way done, put your scallops and shrimp over medium-high heat on a clean, lightly oiled grill (high heat point canola or grapeseed oil work best). Cook scallops and shrimp 2 to 3 minutes per side. The shrimp will turn bright orange when done. Cook the scallops until they are just opaque in the middle.
About a minute before the pasta is done, throw the peas into the boiling water. Reserve a cup of the pasta water and then drain pasta and peas. Return your skillet with the onions and garlic to medium heat and add the drained pasta and peas. Add the pine nuts and a little (1/4 cup) of the pasta water and toss together. If it looks dry add more pasta water a little at a time until a light sauce is formed. At the last minute, sprinkle the parmesan cheese over the noodles, toss, and divide between two plates. 
Top the pasta with scallops and shrimp and finish with basil ribbons. Enjoy!
Serves 2
Each serving contains approximately 574 calories, 22 g fat, 66 mg cholesterol, 576 mg sodium, 458 mg potassium, 19 g carbohydrate, and 30 g protein. 
Based on a 2,000 calorie per day diet. Your personal caloric needs may be higher or lower.
YOU MIGHT ALSO LIKE: Split Pea Soup
Updated: &nbsp
April 14, 2016