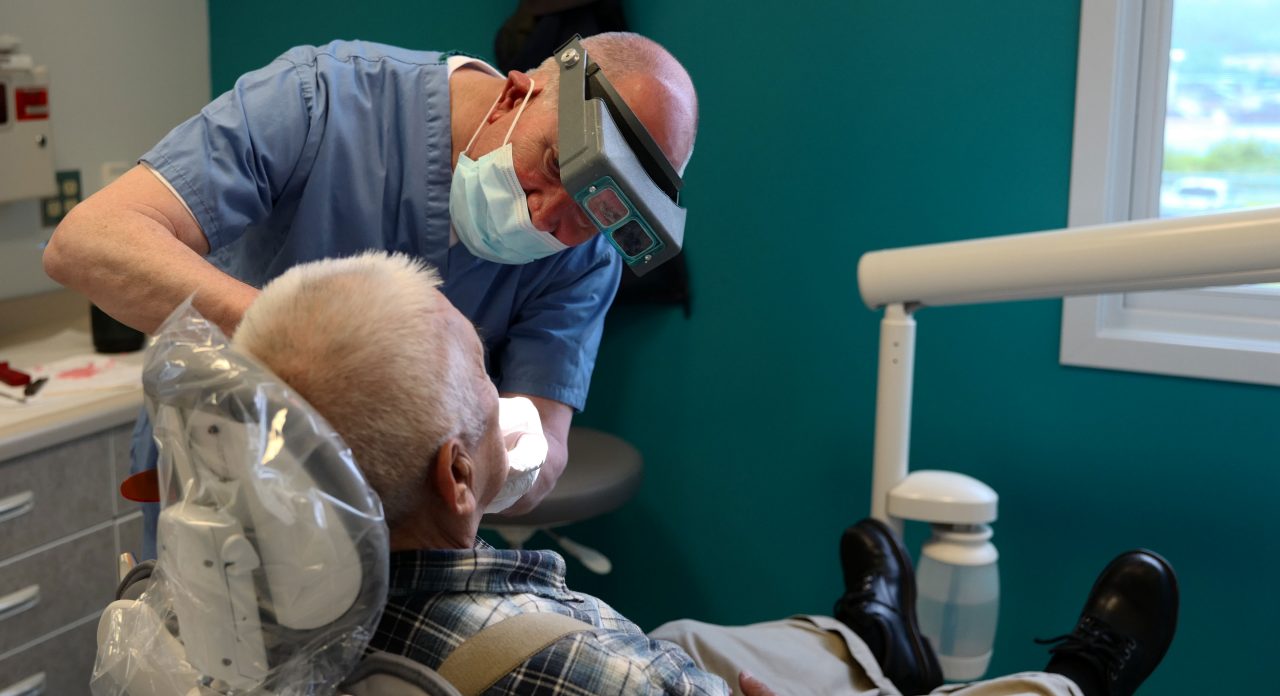 It's hard to build dentures from scratch and repair those in place in the small Alaskan Inuit tribes of Sitka and Juno. These prosthodontists help every year.
It started out as an adventure, and soon Drs. Thomas Taylor and John Agar, board certified prosthodontists, were hooked. When asked to volunteer to help Native Americans in Alaska, they thought it would be a great way to visit the state that's known as the last frontier.
That was more than 20 years ago. Each summer the pair returns to Sitka and Juno with a colleague from UConn Health and three residents. While there, the team spends nine days making dentures for 15 people from the Tlingit and Haida tribes.
YOU MIGHT ALSO LIKE: She Gave the Love of Her Life a Kidney
The towns have good basic dental services. However, finding specialists to build dentures from scratch and repair those in place with dental implants is rare in these small towns. That's one reason why Taylor and Agar have been returning every summer. The other reason is because helping those in need makes them feel great.
Without their services, the locals would do without. "The difference is night and day," Taylor said. "I didn't recognize the true need until I went."
One of their patients lost the roof of his mouth to cancer. "It was so bad that he couldn't speak," Taylor said.
Another patient's dentures desperately needed to be replaced. "He was actually wearing pieces of the denture that was made 30 years ago," said Taylor.
Dentures can erode over time and may need to be replaced, even though they can last for up to eight or nine years. A person's gums can change shape or shrink over time, too. Dentists recommend you have them checked on a regular basis.
"And another patient lost his dentures," Taylor said. "He caught a big salmon and was so excited that he opened his mouth and his dentures fell into the water. He had to do without for a long time."
Prosthodontists are dentists who specialize in replacing, restoring, and revitalizing teeth and jaw structures. After completing dental school, they continue on for three more years of advanced training, in which they learn about dental cosmetics, dental implants, crowns, bridges, and making and fitting dentures.
"Dr. Taylor is very modest," Agar said. "He's the force behind this and it's so rewarding. The Native Americans we serve are so stoic and they really appreciate our being here."
The people they treat live on what they acquire through hunting and fishing. Many come from outlying areas and stay with relatives during their treatment. Having dentures made takes times, and a patient has to return for fittings. Dentures and other dental prosthetics can be costly.
In addition, Taylor and Agar have shipped equipment to a dental practice in Sitka where they volunteer. "To make a denture you have to have the capability to make molds," Taylor said.
The dentures have to be molded and polished and can't be done without the proper equipment. So, the pair raised money to donate the equipment and to deliver it.
Their host in Sitka is Thomas Jordan, DMD, who the doctors describe as a "phenomenal dentist." "He's our host, said Taylor. "Sitka has four or five dentists."
Dentists are not trained to make dentures. "Being in the field and meeting the people is a great experience," Agar said. "Our residents learn a lot and feel proud to help. Some of the Native Americans we treat are veterans. They're proud and, as a veteran, I'm glad to give back."
Back home in Connecticut, the pair work as full-time faculty at the University of Connecticut. They are raising money and planning for their next trip because they like seeing their patients smile.
Updated: &nbsp
March 06, 2017
Reviewed By: &nbsp
Janet O'Dell, RN