June 2014
Are You Addicted to Tanning?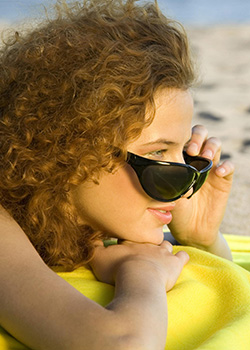 Catching some rays isn't the best way to spend your summer days. After all, tanning raises your risk for skin cancer. It's the most common cancer in the U.S. Yet some people may crave that sun-kissed glow, suggests a recent study.
Too much tanning
In the Journal of the American Academy of Dermatology, researchers set out to see if tanning—indoors and out—might be addictive. They recruited 500 college students. Study participants took an online survey that looked at their mental health.
The survey asked about alcohol and drug abuse. It also gauged whether the students had a problem with tanning. Some of the questions included if they ever felt guilty about tanning or if they had ever tried unsuccessfully to stop tanning.
From their analysis, researchers found that more than 1 in 3 of the students had a tanning problem. Students who said they spent the most time tanning showed possible signs of an addiction. Many of them also reported being very concerned about their appearance.
Dangers of sun damage
Too much sun exposure can seriously damage your skin. The main culprit is ultraviolet (UV) radiation. It can cause your skin to age. It can also harm your eyes. What's more, it can lead to melanoma, the deadliest kind of skin cancer. It attacks your melanocytes, or pigment cells. They are found in the deepest layer of your skin.
Recent studies have shown a spike in melanoma cases. Many of these are found in adolescents and younger adults. Middle-aged men and women are also at serious risk. One recent study found a dramatic increase in melanoma cases since 1970 in that age group. Melanoma rates jumped 4.5 fold in men and an astounding 24 fold in women.
Part of the problem may be indoor tanning. One out of 3 Americans has tried it in their lifetime. But it isn't a safer option. Any form of tanning is bad for your skin. In fact, a tan is a sign of sun damage.
How much do you know about your skin and the sun? Find out with this quiz.
Show Your Sun Smarts
You can do a lot to protect yourself from skin cancer. To be smart about the sun, follow these steps:
Try to plan outdoor activities for before 10 a.m. or after 4 p.m., when the sun's rays are less intense. Seek the shade at midday.

Apply sunscreen every day, even if it's cloudy outside. Sunshine can bounce off water, cement, sand, and snow. Choose broad-spectrum products with a sun protection factor (SPF) of at least 15. Put on more every 2 hours, and after you swim or sweat.

Don't use tanning booths and sunlamps.

Wear clothing that covers your skin, such as a loose, long-sleeved shirt and long pants. Bring a T-shirt to the beach.

Cover your head with a wide-brimmed hat. It will shade your face, ears, and neck.
Online resources
Updated: &nbsp
March 21, 2017
Sources: &nbsp
Incidence of Childhood and Adolescent Melanoma in the United States: 1973-2009. J. Wong, et al. Pediatrics. 2013;131:846-54., Increasing Incidence of Melanoma Among Middle-Aged Adults: An Epidemiologic Study in Olmsted County, Minnesota. G. Lowe, et al. Mayo Clinic Proceedings. 2014;89(1):52-9., International Prevalence of Indoor Tanning: A Systematic Review and Meta-Analysis. Wehner, et al. JAMA Dermatology. 2014;150(4):390-400., Tanning Addiction and Psychopathology: Further Evaluation of Anxiety Disorders and Substance Abuse. L. Ashrafioun and E.E. Bonar. Journal of the American Academy of Dermatology. 2014;70(3):473-80.
Reviewed By: &nbsp
Trevino, Heather M, BSN, RNC