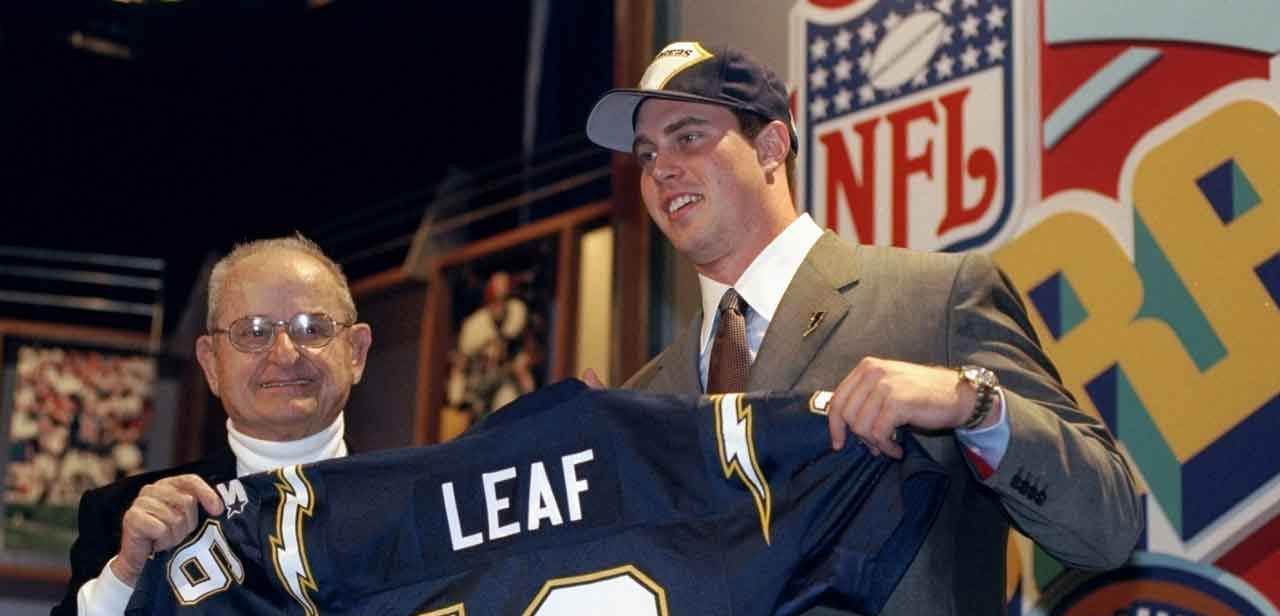 Leaf embodied the phrase "big man on campus" — even if he didn't appreciate it at the time. "I wish I would have not taken it so for granted, for that once-in-a-lifetime experience," he says.
Misbehaving
In 1998, Leaf rode a wave of victory into the NFL draft. He was 22 years old, rich — and cocky. "Even when I was really successful in college, I didn't necessarily handle things appropriately. I was very emotional, very judgmental, angry, didn't take criticism well. But we were successful, so that kind of got overshadowed, like it had always done my whole life," he says. "But if you start to fail, if you start to struggle, it is magnified more."
His rookie season with the Chargers turned into a struggle. After a solid first two games, Leaf hit a wall. In a match-up against Kansas City, he completed just one of 15 passes and threw two interceptions. Then came the notorious locker room incident, where he was caught on video screaming at a reporter, "Just don't f---ing talk to me, all right!" Within a few weeks, Leaf went from hero to pariah.
The Chargers lost 15 games in 2000, turning Leaf into a liability. San Diego let him go. "From going to being one of the most loved players in that city to being one of the most hated in a matter of weeks was very traumatic. I was very lonely, and I didn't reach out for help and it just unraveled," he says.
Leaf bounced to the Tampa Bay Buccaneers and the Dallas Cowboys, then abruptly retired from pro football in 2002. He was 26 years old.
Filling the void
About three months after his career ended, Leaf got hooked on hydrocodone. Though he'd taken painkillers to relieve physical pain after orthopedic surgery in college, this time he took them to ease his emotional ache. "When my NFL career was over, I didn't have competition to fill that void anymore. I simply was self-medicating because of the depression and expectations and the failure," he says.
He used any means possible — from lying about his injuries to offering autographed photos for his doctors' kids — to get the pills he craved. "I could go in there and show them the battle scars and feel like I was entitled to these because I was beat up for a living," he says. "I rationalized it and justified it to myself in every form. That I wasn't on a street corner. That I wasn't taking heroin. That I wasn't using needles. This was medicine that was readily available and prescribed by doctors. No one knew that I was going to, like, 15 doctors to get pills every other day. That was the fraud of it all."
When doctors no longer fell for his schemes, he rummaged through his friends' medicine cabinets. And when those missions failed to turn up any drugs, he walked into strangers' homes through unlocked doors and foraged for whatever pills he could find.
Updated: &nbsp
January 08, 2018
Reviewed By: &nbsp
Janet O'Dell, RN