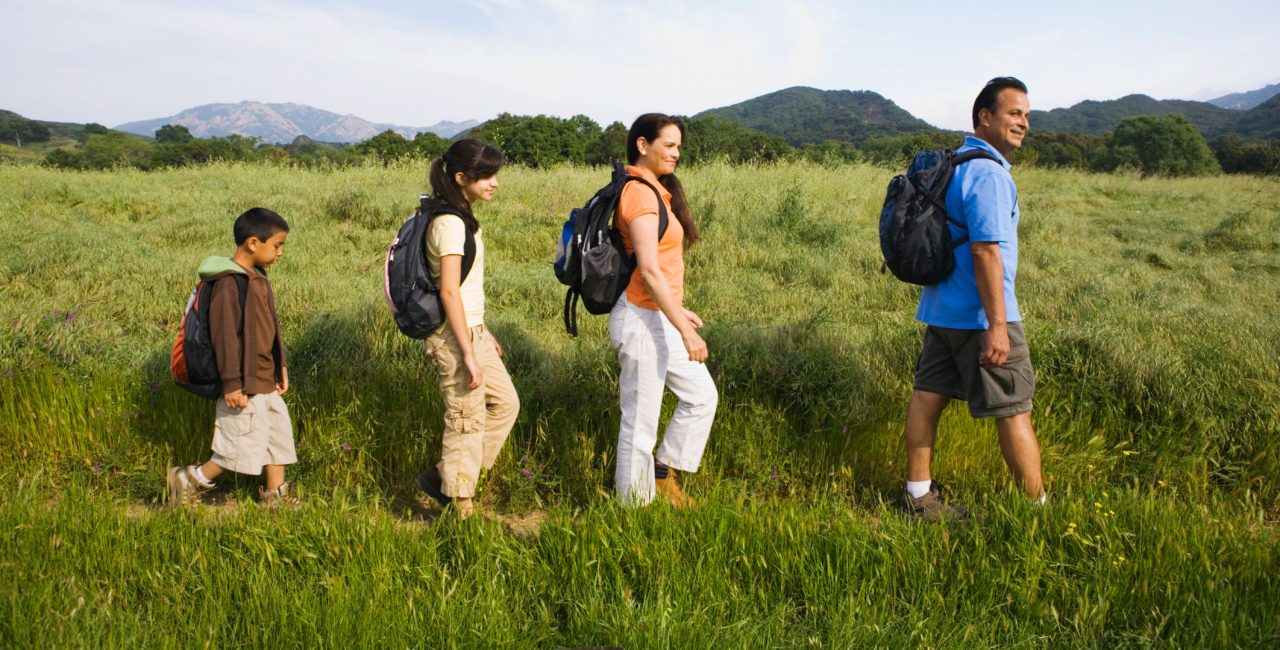 I had the rare opportunity over the weekend to get out of my normal routine and go camping. My husband, who built our camper from scratch a little over a year ago, was eager to try out a new campsite a little over an hour way, and, with childcare arranged, we set off for 36 hours of kid-free communing with nature.

YOU MIGHT ALSO LIKE: Game. Set. Match. A Working Mom's Ode to Tennis

I am not a camper by nature. I far prefer the comforts of home to the uneven and uncomfortable confines of a tent. Thankfully, my husband's bed-in-a-box has helped me change my tune. I now jump at the chance to take our homegrown teardrop out on the road. A chance to sit by a nicely roaring fire with s'mores in hand? Yes, please.
Camping is also a great way to satisfy my love for hiking, a hobby that I haven't taken seriously since before our daughters were born. (I won't bore you with dates.) While I'm not as experienced as those who have combined hiking and camping into months-long experiences associated with treks like those found on the Appalachian Trail, I do enjoy a good day-long hike. My husband and I were able to satisfy our need to hike during our trip, and our somewhat strenuous walk reminded me of why I came to love hiking in the first place.
If you're solo, it offers a great opportunity to truly concentrate on the world around you. Leave the earbuds in your fanny pack and enjoy the sounds of nature all around you – the calls of birds, the buzz of bees, the whisper of wind…. They are sounds we no longer hear on an everyday basis, and should strive to remain familiar with. If you're hiking with a companion, hiking presents a great opportunity for tete-a-tetes – intimate conversations away from the hustle and bustle of everyday routines. My husband and I caught up on what was going on in our worlds – not just the world of our kids. It was definitely refreshing – precious time that can literally help keep a marriage healthy.
Then, of course, there are the benefits to the physical activity associated with hiking. You'll chalk up thousands of steps, many of them more strenuous than you would have realized. You'll work out muscles that might have lain dormant for several months or years. And you'll work up a good appetite for the campfire food you promised yourself later in the evening.
While I've never had hiking adventures like those of Bill Bryson (one of my favorite authors who chronicled his experience with the Appalachian Trail in "A Walk in the Woods"), I am redeveloping my love for it as my children seem to grow by leaps and bounds. They, too, are beginning to appreciate all that hiking has to offer – especially the sights and sounds they encounter along the way. We're building memories (and burning calories) one step at a time.

YOU MIGHT ALSO LIKE: Better Living Through Lack of Technology