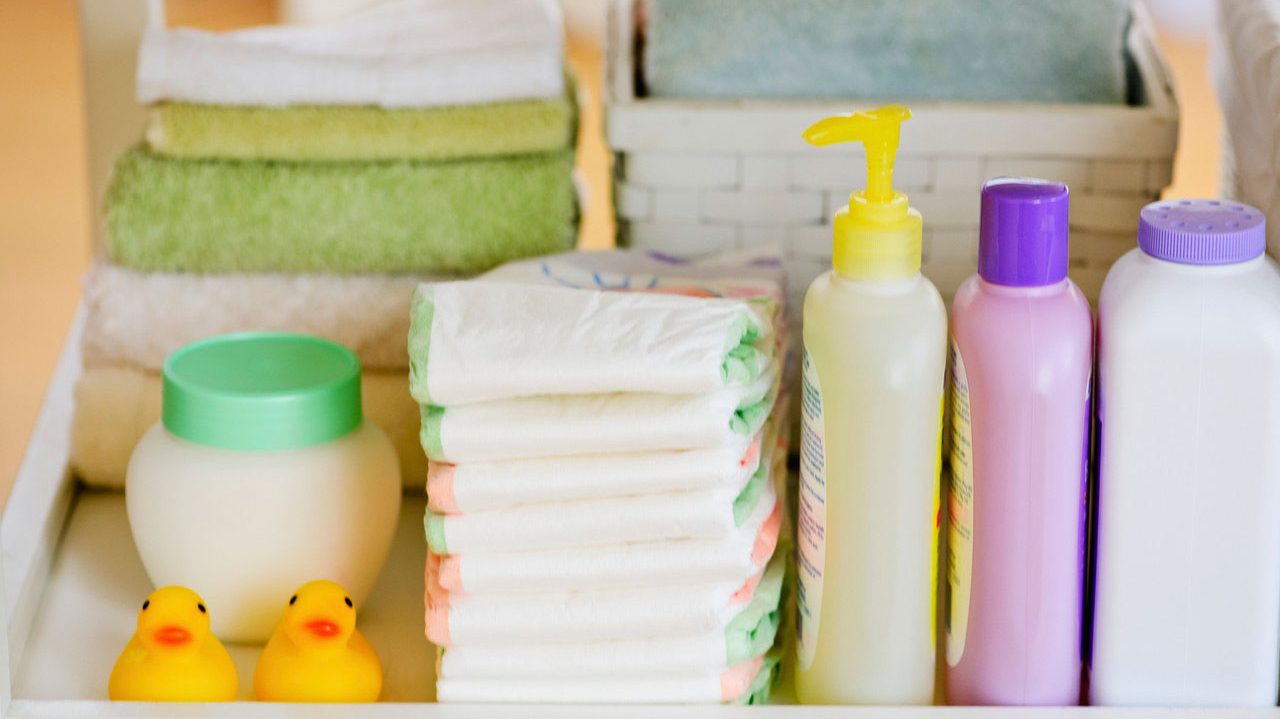 The gear you need to stock before your newborn arrives.

To a first-time parent, a stroll through a baby supply store can feel like sensory overload. Shelves are stacked ceiling-high with bottles, diapers, bibs, and wipes, in so many styles, scents, and sizes that's it's hard to know which ones you have to have, and which are just extras.
Here's a guide to help you streamline your baby store visit, and stock your nursery with only the supplies you'll need before baby arrives.
YOU MIGHT ALSO LIKE: Guide for First-Time Moms
Clothes
For newborns, fashion is far less important than comfort, convenience, and durability. A big wardrobe also isn't a must. Four to six machine-washable onesies, one-piece sleepers, t-shirts, and pairs of pants are plenty. Choose soft, wearable fabrics like cotton that can withstand spit-ups and diaper blowouts. Make sure one-piece outfits have snaps at the bottom, or pants have a loose elastic waist to give you easy access for diaper changes. Avoid bows, buttons, and other accessories that could pull off and become choking hazards. In the winter, add sweaters, a coat, mittens, hat, and booties. To save money and give your baby room to grow, buy a size ahead (3 months for newborns, 6 months for 3-month-olds). Also get a few pairs of socks with non-skid soles. There's no need to buy shoes until your baby starts to walk.

Crib
When it comes to outfitting baby's crib, keep it simple. Soft, fluffy blankets might look cuddly and warm, but they can increase the risk for sudden infant death syndrome (SIDS). "Babies should be placed for sleep on a firm, safety approved mattress and fitted sheet, without any other bedding," says Marian Willinger, PhD, special assistant for SIDS at the National Institute of Health's Eunice Kennedy Shriver National Institute of Child Health and Human Development.

Changing
Diapers are a necessity, but the brand you choose is up to you. Because you'll be going through 10 or more a day, try to cut costs where you can. You can save up to $1,000 by the time your child is toilet trained by switching to cloth, but if you'd rather use disposables, it's cheaper to buy diapers in bulk. Along with diapers, wipes, and a changing pad, stock some zinc oxide cream in case your baby gets a diaper rash, and petroleum jelly to care for the circumcision site (in boys) and umbilical cord. If you have a boy, it's also a good idea to buy a few small cloths to keep nearby so he doesn't spray you during changes. Though you don't need to buy a diaper disposal system, it can make getting rid of dirty diapers easier and far less messy.

Feeding
If you're nursing, a few bibs and burp cloths may be all you need. But if you plan to formula feed, you'll need bottles, nipples, and brushes to clean them with. (If you're nursing and you want to bottle some of your breast milk, you'll probably need a breast pump.) When it comes to buying bottles, you can choose from glass, plastic, or stainless steel. Since 2012, plastic bottles have been free from bisphenol A (BPA) — an estrogen-like chemical that was linked to cancer and early puberty. Yet the chemicals used to replace BPA have also been found to leach estrogen-like chemicals into foods. Glass also comes with a risk — drop it, and your floor will be covered in sharp shards. Some manufacturers have added a sleeve to prevent the glass from getting everywhere if the bottle breaks. Stainless steel bottles are safe, but they can be pricey. If you're looking for low cost and convenience, stick with plastic bottles, but avoid putting them into the microwave or dishwasher because heat can cause the chemicals to break down and release into the milk or formula. When it comes to style, angle-neck bottles help prevent your baby from swallowing the air bubbles that cause gas, while wide bottles and nipples simulate the breast, which can help babies who alternate between breast- and bottle feeding. Buy only a few bottles and nipples to start. You might need to try different styles and combinations to find the one your baby prefers.
YOU MIGHT ALSO LIKE: Breastfeeding Tips for New Moms
Bath time
Babies don't need fancy, expensive soaps and shampoos. Any gentle cleanser that's fragrance- and dye-free is fine. Other bath-time necessities are a few hooded towels and a soft hairbrush. You don't need to buy a baby tub, but if you want to use one, check that it's sturdy and it doesn't have any holes your infant could slip through. No matter how stable the seat is, never leave your child alone in the bathtub — even for a second.

Car seat
A car seat isn't an accessory – it's a necessity. The hospital won't let you bring your baby home without one. Buying an age-appropriate rear-facing seat is only the first step – the second is to install it correctly, which research finds most new parents fail to do. According to a study from Oregon Health and Science University Hospital, nearly all families made at least one critical error when installing their car seat. In most cases, the seat was too loose to adequately protect the baby.

To make sure your seat is installed correctly, have it inspected. You can find certified inspectors at your local fire station, or by searching online at http://www.seatcheck.org.

Other must-have baby accessories
You'll also want to keep a few other extras on-hand. Buy a bulb syringe to suction out baby's nose when he has a cold. Get a thermometer, because any temperature elevation in the first few months of life merits a call to the pediatrician. Digital thermometers that go in baby's ear or under the armpit make temperature taking easier, but research finds rectal thermometers provide the most accurate reading. Finally, buy a pair of baby safety scissors or clippers to keep your infant's nails trimmed so she doesn't scratch herself.
Updated: &nbsp
April 07, 2020
Reviewed By: &nbsp
Janet O'Dell, RN