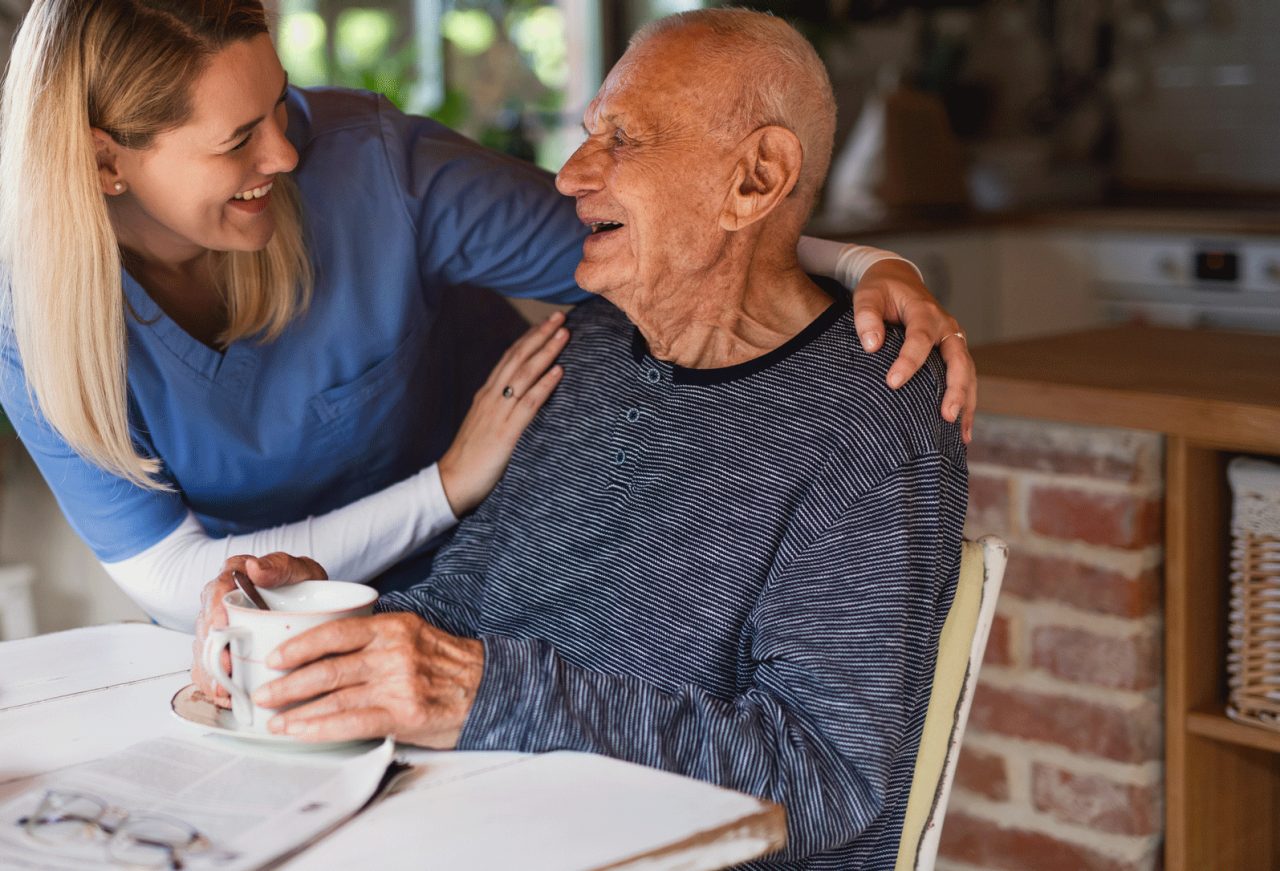 As the Baby Boom generation moves into and through their 70s, the demand for home healthcare aides continues to increase.
About 15 percent of Americans are seniors, and that percentage is increasing.
If you make it to age 65, you're likely to live longer than your parents did and be healthier. Yet you also have a 50 percent chance of needing help before you die just to get out of bed, use the bathroom, or eat.
As the Baby Boom generation, born from 1946 to 1964, moves into and through their 70s, the demand for home aides for the elderly is bound to increase. Over time, every elderly person needs help with some tasks.
Finding care, paying for it, and supervising the arrangement may be a challenge. It's common for seniors to say they don't want or need help. Ideally, you'll discuss options early and move towards a solution before a crisis.
In the best situations, elders cooperate with family members and decisions are well-informed. There will be changes along the way but, as a team, you'll know you've given this your best shot, and the family gets closer.
YOU MIGHT ALSO LIKE: Our Healthcare Choices section

Paying for home healthcare
Medicare, the federal insurance program for seniors, will cover occasional or part-time nursing, or home healthcare, if you are homebound, but it doesn't cover 24-hour-a-day care at home, meals delivered to your home, shopping, cleaning, laundry, bathing, dressing, or help using the bathroom when this is the only care you need.
According to the Center for Medicare Advocacy, even people who qualify for Medicare coverage of home healthcare run into obstacles. They might hear that that Medicare will cover only one to five hours a week of home health aide services, or only one bath a week, or that their condition must decline before they can get services.
Medicaid is targeted for low-income Americans, the disabled, and other groups. If you qualify for Medicaid in your state, home-based benefits vary.
What if you pay for home visits yourself? In 2019, direct care workers earned a median hourly wage of $12.80, only 19 cents more an hour than they earned a decade earlier. Costs, however, vary by region. In the New York area, you might pay $13 to $25 an hour for an aide you hire directly, more if you use an agency.
Finding care
There is already a shortage of home health workers. In New York state, for example, around 17 percent of slots are unfilled, according to research by a team at the City University of New York (CUNY) and the Association on Aging in New York.
In Maine, which has the oldest population in the United States, there is a waiting list of more than 900 people for a state program that covers visits by an aide who helps with chores. More than a fifth of Maine residents are seniors.
The most likely source of new workers to help the aging population will be immigrants. Since the mid-1990s, immigration has added more people to the workforce than U.S. born adults coming of age.
Wages are likely to rise, attracting people to train for these positions.
What are signs a senior needs help?
Start looking for solutions if you see or experience any of these:
Leaving the stove on
Wandering away from home
Not eating regularly or nutritiously
Not bathing regularly
Falling frequently or having difficulty walking without help
Not driving safely
Not preparing simple meals
If a family member has been helping, be alert for signs that it's become too much. Again, look for backup or a new arrangement as soon as possible.
What do home health aides do?
There are a variety of arrangements, depending on what an older person needs. Some aides live in the home, while others work regular shifts. Along with doing routine chores like laundry, cooking, shopping, and light housekeeping, aides must be able to:
Assist with activities of daily living, including bathing, dressing, eating, grooming, moving from one place to another, toileting, and cleaning up afterward
Check vital signs such as blood pressure, respiration, and pulse
Monitor a client's physical and mental condition, level of exercise, and how much they are eating, drinking, and going to the bathroom
Handle emergencies like a fall, heart attack, or stroke
You may ask your aide to report to you or a nurse or doctor about an elder's physical and mental health. It is important that your aide is flexible, honest, and reliable and has the patience, stamina, and medical knowledge needed for the job.
What needs to be spelled out
Home aides often perform what the industry calls "light housekeeping." You should be specific about whether your aide's hours and duties include light housekeeping and what that means.
What is "light housekeeping"?
According to Collier Home Care in Naples, Fla., light housekeeping includes "tasks such as dusting open surfaces; sweeping and mopping floors (damp mops — small areas and hard surface floors); vacuuming around furniture; wiping down counters; washing and putting dishes away; cleaning bathrooms and kitchens; taking out the trash; changing sheets and making the bed; and organizing drawers, shelves, and closets. Light housekeeping is meant to be limited to the areas used by the client such as the bathroom, kitchen, bedroom, and living room."
What is not "light housekeeping"?
Aides usually understand that they are not required to do "deep cleaning."
Deep cleaning would be big tasks like "shampooing carpets, and steam cleaning or scrubbing floors; cleaning glass windows, windowsills, and glass doors; polishing chrome, brass, stainless steel, including fixtures; cleaning ceiling fans; cleaning roofs and gutters; cleaning the exterior of a house or outside furniture; cleaning the grout lines; moving heavy furniture; cleaning kitchen appliances such as the fridge, stove, microwave; or raking or mowing the grass."
Hiring and paying for an aide
Ask yourself, how much responsibility can an elder or family member take on to hire and supervise a new employee?
If you go to an agency, you'll work with professionals to define the job, including its hours, pay, and tasks. The agency will look for a good match. Your aide should pass a background check and have appropriate credentials. The agency pays the aide and supervises. If anything changes — for example, your aide leaves or you need someone with different skills — the agency can step in. In an emergency, the agency can act quickly.
The agency should also resolve complaints. When aides aren't fulfilling their agreements, the agency can find out why and decide if you need someone else. If your aide is unhappy with the situation, the agency may be able to improve things.
Medicare rates private home care services and has a searchable directory at its website. This checklist can help you move through your decision.
To save money, you may need to hire aides directly.
An intermediate choice is a specialty direct-hire group like Care Concierge NY, which maintains networks of vetted independent caregivers and can provide replacements or backup in an emergency but do not supervise your aide.
You can also ask family, friends, and neighbors for recommendations.
Either way, if you do not use an agency, you will need to negotiate an agreement with your new employee. You may spend less because you're not paying the agency's fees. But you are saving money because you are assuming more risk and responsibility.
If you are a family member hiring for an elder, make sure you can supervise and your elder will cooperate with you.
As an elder hiring for yourself, be clear about your vulnerability. If you don't have (or don't empower) a family member or friend to check up on the situation and resolve problems, you will be at the mercy of an unsupervised employee.
Updated: &nbsp
May 24, 2022
Reviewed By: &nbsp
Janet O'Dell, RN