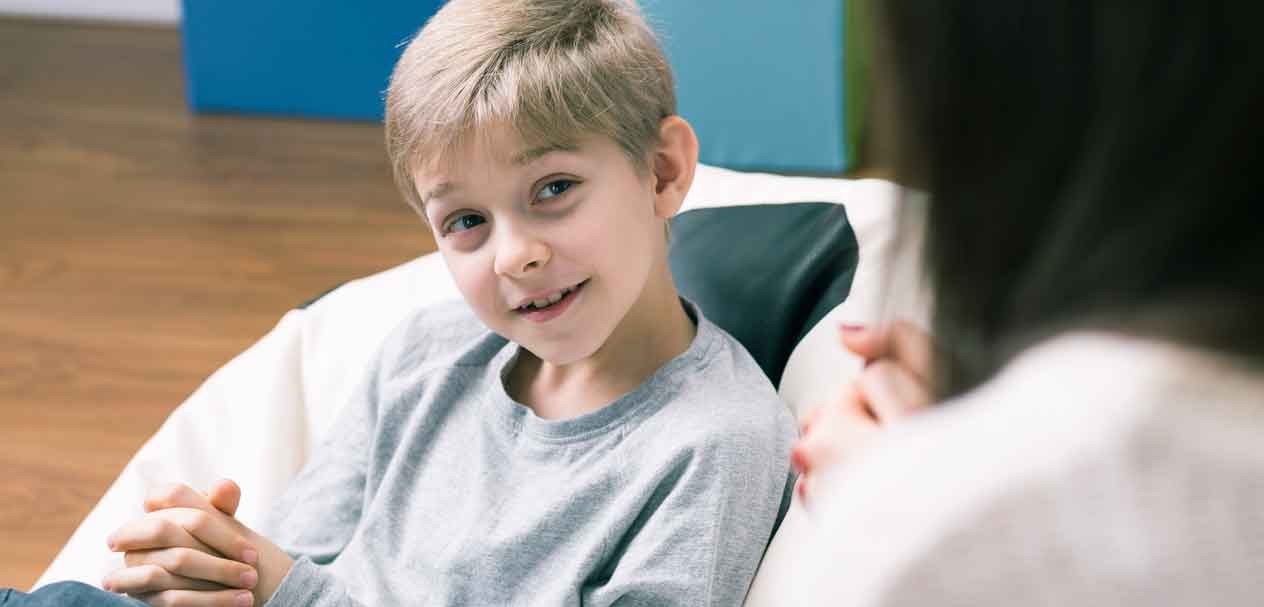 When your child needs therapy, here's what you need to know and how to talk to your kid about it.
Sometimes it's a significant event like the death of a family member, a divorce, or a move that may trouble your child. It could be abuse, trauma, or an unclear reason that is causing your child to be withdrawn, worried, losing sleep, not eating, or acting out. If your child is acting out of the ordinary and seems distressed, your child may benefit from seeing a therapist.
A psychologist, social worker, or psychiatrist can help your child cope with difficult life situations. Before you take your child to talk to a therapist, explain to him why you think he needs a neutral professional to talk to.
YOU MIGHT ALSO LIKE: Our Mental Health Section
When your child needs therapy
"My son wouldn't open up and when he did talk about some of his problems, he wasn't fully forthcoming," Casey Hess said. "I told him that when he had a fever, we took him to see a doctor, and that now he needs to see a doctor because he's having trouble with his feelings." This explanation also helps your child's siblings understand why you're taking your son to a therapist.
Hess asked her son's elementary school social worker and a few neighborhood friends for recommendations. Most therapists have websites; Hess read through many before interviewing a handful over the phone. Afterwards, she met with two who seemed the most promising.
Then she narrowed down her choice and made an appointment for her son, who is eight. "It's important that parents let their children know that this isn't a punishment," Leigh Kolodny-Kraft, executive director and therapist at The Kraft Group, Inc., which serves children, adolescents, and adults in Florham Park, N.J. "Children should understand that therapy is a way for them to express their feelings in a safe environment. And it's important for parents to understand that, when it comes to children, we treat the family."
Children, siblings, and parents need to feel comfortable with the therapist. "The rapport between therapist and child needs to be strong," she added. "That way trust builds and the child will share his feelings."
Kolodny-Kraft recommends that sessions with children be held once a week for an hour at a time. Family sessions can be held monthly or more as needed, and siblings can also participate. "The goal is to help the entire family and to do that therapists need to give the patient, parents, and siblings coping skills and ways to deal with stressful situations."
Parental involvement
Some parents think that they will hand their child over to the therapist and take a backseat. "That's not the case," said Kolodny-Kraft. "We need input from everyone in the immediate family. And a child's issues can affect the parents and siblings. So, we can work on that, too."
Parents also have to understand that what goes on in a therapy session between children under 18 and their therapists is confidential. "You won't get a report at the end of every visit," Kolodny-Kraft said. "Your child needs to know that what he says in a session is between the therapist and the child. If he knows the therapist will share everything, he won't talk freely about his feelings. This needs to be a place of trust."
That doesn't mean parents won't be alerted if the child says something harmful, such as wanting to hurt someone or himself. "In those cases, we let parents know if the child or someone is at risk," she said. "That way we can talk about the next steps in order to solve the situation."
As far as seeing results, it could take a couple of months or a lot longer. According to Kolodny-Kraft, it depends on the child and the situation. "If you or your child don't feel comfortable with the therapist, make a change," she said. "Make sure the therapist you see specializes in children and when you do find one that you like, make sure your child likes that person, too."
Updated: &nbsp
February 27, 2020
Reviewed By: &nbsp
Christopher Nystuen, MD, MBA