CANCER CARE
Advances in Pancreatic Cancer Diagnosis and Treatment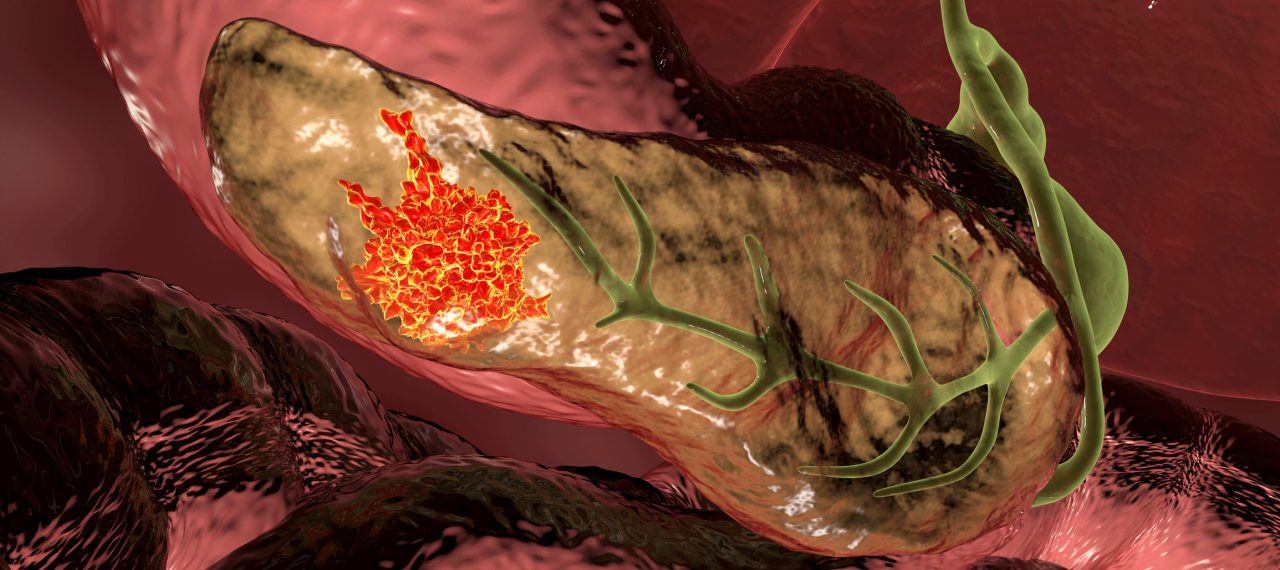 Pancreatic cancer is often deadly because it's hard to spot at an early stage. But advances in finding and treating pancreatic cancer are progressing quickly.
Even if you have never had a family member or friend diagnosed with pancreatic cancer, you've probably heard about the too often deadly outcome of the disease. Over the years several celebrities — including Alex Trebek, Aretha Franklin, Michael Landon, John Hurt, and Luciano Pavarotti — have succumbed to pancreatic cancer, despite aggressive treatment by oncologists.
The malignancy has the highest mortality rate of all major cancers. Pancreatic cancer is diagnosed in almost 60,000 Americans annually, and nearly 50,000 people in the U.S. with the malignancy die each year, according to the American Cancer Society.
In fact, the number of cases and deaths caused by pancreatic cancer have increased world-wide over the past decade, revealing an urgent need for more research into the disease, according to a report, published in the Lancet, by an international team of pancreatic cancer specialists.
But there's finally good news in the battle against pancreatic cancer.
Rapid advancements in identifying risk factors, screening, imaging, and targeting effective treatments to individual cases are increasing the odds for more successful outcomes for pancreatic patients.
YOU MIGHT ALSO LIKE: Pancreatic Cancer Symptoms

New ways to spot pancreatic cancer early
If found early, while the disease is localized, almost 40 percent of people with pancreatic cancer are expected to live at least five years. Unfortunately, many people with the malignancy aren't diagnosed until the cancer is advanced,and the survival rate at five years for advanced pancreatic cancer is only three percent.
Several innovations, however, are already helping doctors find the disease at very early stages, when it is more likely to be treated successfully, according to Mayo Clinic gastroenterologist and pancreatic cancer researcher Michael Wallace, MD.
For example, advances in MRI technology can now identify small, fluid-filled pancreatic cysts, which may increase the risk of pancreatic cancer. Finding the cysts helps identify high-risk patients who should be closely monitored to spot an early malignancy, if one develops.
In addition, Wallace and his research team are developing artificial intelligence tools to classify early pancreatic cancers in cystic lesions to find the most effective treatments.
Doctors have also discovered a clue in a small number of pancreatic cancer cases that can sound an alert a patient may have pancreatic cancer at an early, more curable stage. The clue is an unexpected diagnosis of diabetes in someone with few or no risk factors for that disease. It turns out, pancreatic cancer may be causing the diabetes, Wallace explains.
Wallace and colleagues have also identified key markers of early cancer in "pancreatic juice." This fluid is released by the pancreas into the intestine, where it can be collected using standard endoscopy. Researchers can quickly search the  "pancreatic juice" for cancer markers using a test much like a Cologuard, which is now widely used for screening colon cancer non-invasively.
Other early warning signs of pancreatic cancer include:
Epigastric abdominal pain through your back
Unexplained blood clots
Jaundice
Unexplained weight loss
Advances in treating pancreatic cancer
When pancreatic cancer patients have large tumors, improved chemotherapy can often shrink the growths substantially before surgery. So, surgeons are better able to better remove the malignancy, improving the patient's odds of survival.
If a person being treated for pancreatic cancer is not responding to chemotherapy, fine needle biopsies can now be used to collect enough material from the cancer to find a better treatment. Genetic sequences from the sampled malignancy are searched to see if a different available medication would potentially be an effective treatment for the cancer.
Researchers are also studying whether combining drugs already used to successfully treat other diseases might be effective weapons in treating pancreatic cancer.
A case in point: A team of scientists headed by Martin McMahon, PhD, a cancer researcher at Huntsman Cancer Institute and professor of dermatology at the University of Utah, has found mixing two medicines typically used to treat malaria and melanoma may effectively treat pancreatic malignancies that have specific mutations. His findings, published in Nature Medicine, show the therapeutic approach has promise for patients with pancreatic cancer.
The researchers, part of the Pancreatic Cancer Collective, an initiative of the Lustgarten Foundation for Pancreatic Cancer Research and Stand Up To Cancer, are now studying the best way to deliver the potential treatment to pancreatic cancer patients.
Updated: &nbsp
May 05, 2021
Reviewed By: &nbsp
Janet O'Dell, RN