RECIPES
Roasted Cauliflower and Goat Cheese Gratin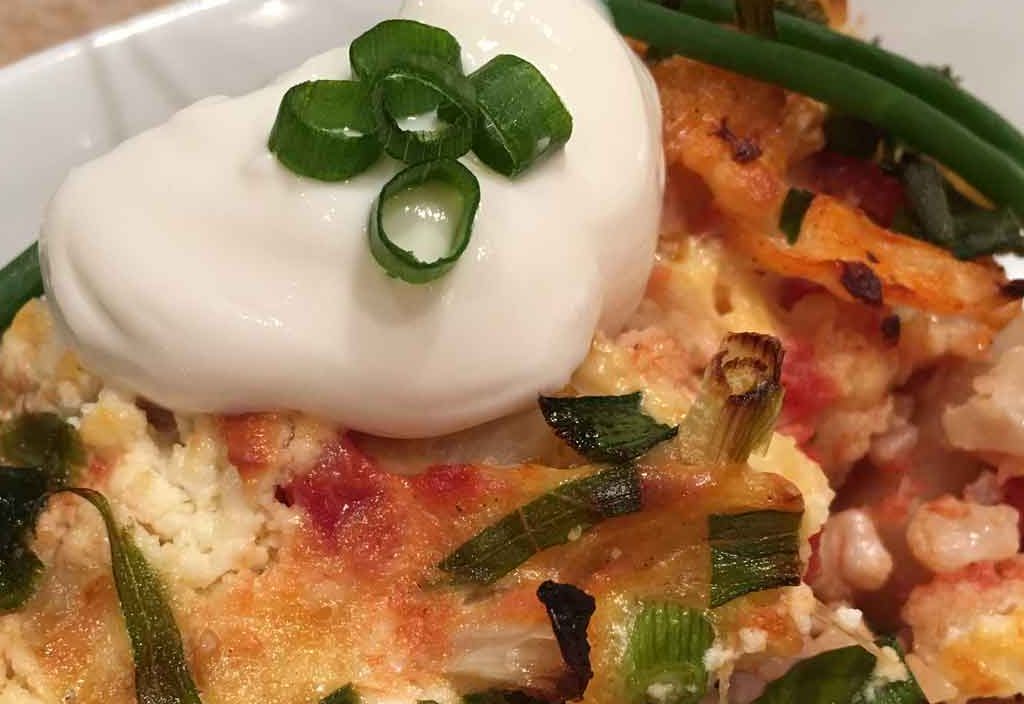 This dish capitalizes on the blandness of the recipe's main character, which takes on the flavors of its supporting actors.
Cauliflower is a cruciferous vegetable in the same family with broccoli and kale. It comes in a variety of colors, but the most common is white. Despite its bland appearance, the white variety is just as nutrient-dense as other members of the cruciferous vegetable family. Cauliflower is rich in phytonutrients and antioxidants and very high in vitamins C and K.
YOU MIGHT ALSO LIKE: Creamy Chicken and Broccoli
Ingredients
1 medium head cauliflower, leaves and stem removed
1 small or ½ large red onion, quartered or halved (respectively) lengthwise and then sliced thin across the grain
2 medium garlic cloves, minced
3 tbsp good olive oil, divided
Salt and pepper to taste
1 14-oz. can chopped tomatoes and the juice
1 t fresh or ½ t dried thyme
¼ tsp cinnamon
½ tsp roasted, ground coriander
2 eggs
1 4- to 5-oz. log of plain goat cheese, room temperature
2 tbsp chopped scallions (green part only) or chives
Directions
Preheat oven to 450 degrees. Place the cleaned and trimmed cauliflower head stem-side down on a cutting board. Slice it as you would a loaf of bread into 1/2-inch slices. Don't be concerned if some of the outer florets fall off. 
Transfer to baking pan. You can line with foil if you desire. Add 2 tbsp olive oil, salt, and pepper to the cauliflower and toss to coat. Arrange in a single layer and roast in preheated oven for 15 to 20 minutes, stirring and turning over large pieces about halfway through. Remove when slices are tender and pieces are nicely browned. Cut cauliflower into bite-sized pieces and transfer to a large bowl. 
Reduce oven temperature to 375.
Prep a 1-1/2- to 2-quart baking dish with oil or cooking spray. To a medium-sized skillet or wide saucepan over medium heat, add the remaining olive oil. Add onion and cook until tender, stirring frequently, about 5 minutes.
Add garlic, thyme, a generous pinch of salt, and continue to cook until garlic is fragrant, about 30 seconds. Add tomatoes and juice, cinnamon, ground coriander, salt and pepper to taste, and bring to a simmer.
Reduce heat slightly and cook, stirring often, for 10 to 15 minutes until the sauce is fragrant and the tomato juice has reduced. Add to the bowl with the cauliflower and mix together. Transfer to prepared baking dish.
Set aside half the goat cheese. Beat the eggs and remaining goat cheese together until smooth. Pour evenly over the cauliflower mixture. Crumble the remaining goat cheese over the top and sprinkle with green onions or chives.
Bake for 30 minutes until top begins to brown. Hit it with your broiler for a minute if you'd like a crisper crust, but be careful not to let it burn. Remove from oven and allow to sit for 5 to 10 minutes before serving.
Serves 6
Each serving has approximately:
200 calories
13 g total fat
81 mg cholesterol
291 mg sodium
508 mg potassium
10 g total carbohydrate
10 g protein
90 percent of your daily requirement of vitamin C
Values based on a 2,000-calorie diet. Your values may change depending on your calorie needs.
Updated: &nbsp
May 19, 2023