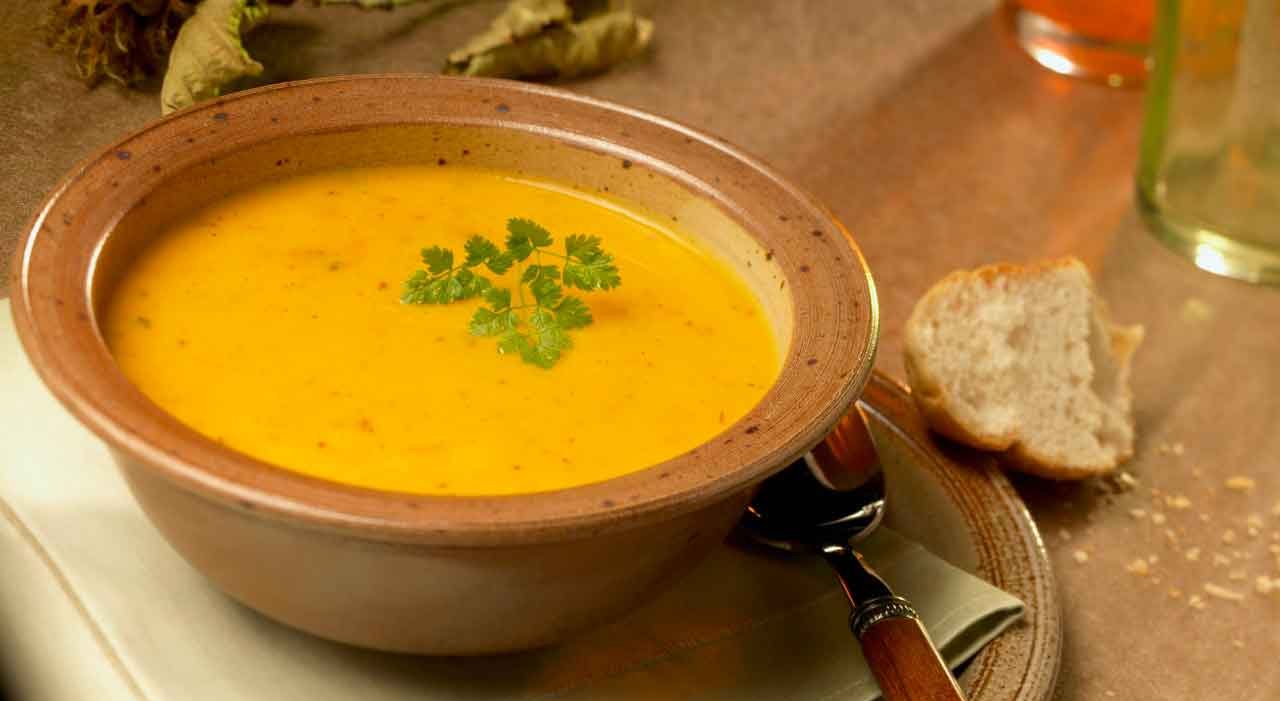 This hearty, healthy soup is a wonderful combination of favorite fall produce and warming spices, perfect for a chilly day.
Ingredients
1 medium Sugar Pie pumpkin (can substitute butternut squash)
4 apples (I used Gala and Jonagold)
1 box (32 oz.) low sodium chicken broth or stock (can substitute vegetable stock)
1 can (13.5 oz.) light coconut milk
½ cup pecan pieces (for garnish)
¼ cup unsweetened shredded coconut (for garnish)
¼ tsp cayenne pepper (optional)
½ tsp curry powder
½ tsp turmeric powder
¾ tsp garam masala
¾ tsp ground ginger
1 tsp salt
1 tbsp honey
Directions
Preheat oven to 375o. To make cutting easier, poke several holes in the pumpkin and microwave 3 to 4 minutes. Quarter the pumpkin and scoop out the seeds. Arrange quarters, flesh side up, in a baking dish. Add about an inch of water. Place in the oven and bake for one hour or until a fork is easily inserted. Remove from oven and allow to cool. 
Pour the chicken stock into a medium saucepan and bring to a simmer. Peel, core, and dice the apples. Add apples to stock and simmer until soft, 15 to 20 minutes. While the apples are simmering, peel the skin from the pumpkin. Dice up the peeled pumpkin and add it to the apples. 
Working in batches, ladle pumpkin, apples, and stock into a blender or food processor along with some of the coconut milk (you should use the entire can by the time you are done). Puree until smooth and transfer to a bowl. Pour the pureed pumpkin and apple mixture back into your saucepan over medium-low heat. Add the spices, salt, and honey. Allow to simmer for 15 to 20 minutes, stirring occasionally. Taste and adjust spices to your liking.
Add pecans to a small skillet and toast over high heat until aromatic. Place coconut on a cookie sheet under the broiler until golden brown (1 to 2 minutes). Garnish soup with toasted pecans and coconut. Enjoy!
Makes about 9 1-cup servings
Each serving contains 150 calories (with garnishes), 9 g fat, 0 g cholesterol, 18 g carbohydrates, 73 mg sodium, 2 g dietary fiber, 1 g protein, 201 mg potassium, 77 percent of the daily requirement of vitamin A, and 13 percent of the daily requirement of vitamin C.*
*Percent Daily Values are based on a 2,000 calorie diet. Your daily values may be higher or lower depending on your calorie needs.
Updated: &nbsp
December 22, 2015