SAFETY
Be Smart About Water Safety
July 2014
Be Smart About Water Safety
Warmer weather sends many people into the water. That makes summer a high time for drowning. Fortunately, the latest research shows the number of drowning deaths is falling. But not for all age groups. Read on to learn how you can protect yourself and your loved ones this season.
Latest drowning data
In a recent government report, researchers looked at data on drowning deaths from 1999 through 2010. They then studied the data to see what kind of patterns emerged. They looked at drowning deaths by age, sex, location, and even day of the week. The results may surprise you.
From the analysis, they found that drowning deaths are down overall in the U.S. They dropped 9% over the 10-year study period. But drowning is still a major problem for younger children, especially boys ages 1 to 4. Children in that age group are more likely to drown in a pool over the weekend.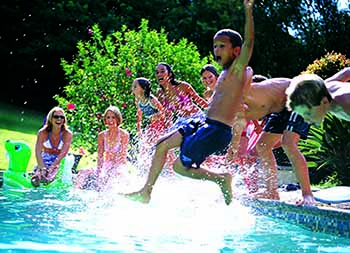 Despite the downward trend, drowning rates appear to be on the rise for certain adults. In fact, those older than age 85 have one of the highest death rates from drowning. A 9.7% increase was also noted in adults ages 45 to 84. Many adults drown in natural water settings, such as lakes and rivers.
Water safety tips
Drowning isn't just a safety issue for children. This recent study shows it can happen to anyone at any age. You can help keep drowning deaths down with the following steps:
Learn how to swim. Formal swim lessons can reduce the risk of drowning for you and family members. In one study, researchers said that such lessons lowered the chance of drowning by 88% in children younger than age 5.

Swim with a buddy. It's also best to avoid swimming in places that don't have a lifeguard on duty.

Practice proper pool safety. If you have young children, always keep an eye on them. Install a 4-foot safety fence completely around the pool. Consider using a pool alarm. Also teach your child to ask you first about entering the water.

Avoid drinking alcohol while swimming. It's a major contributor to drowning deaths in adolescents and adults. Alcohol can impair your coordination and judgment.

Be safe around natural bodies of water. Many beaches use color-coded flags to show swimming conditions. Avoid entering the water if it's choppy, rough, or filled with debris. Always wear an appropriate-sized lifejacket when boating.
Don't know how to perform CPR? Find a class near you through the American Red Cross website.
In Case of an Emergency …
Even when you try to stay safe in and around water, drowning can still happen. And it often does so quickly. In case of an emergency, follow these steps:
Remove the person from the water right away. Check if he or she is breathing.

If the person isn't breathing, begin CPR immediately. Don't waste time seeking emergency medical help. If others are present, ask them to call 911. The victim may spit up swallowed water while you are doing CPR.

Continue CPR until the person starts breathing again or medical personnel arrive.
Online resources
Updated: &nbsp
March 21, 2017
Sources: &nbsp
Association Between Swimming Lessons and Drowning in Childhood: A Case-Control Study. R. Brenner, et al. Archives of Pediatrics and Adolescent Medicine. 2009;163(3):203-10., Drowning and the Influence of Hot Weather. M. Fralick, C. Denny, and D. Redelmeier. PLoS One. 2013;8(8):e71689., Unintentional Drowning Deaths in the United States, 1999-2010. J. Xu. NCHS Data Brief. No. 149, pp. 1-8.
Reviewed By: &nbsp
Turley, Ray, BSN, MSN