SAFETY
Are You Aware of These Household Hazards?
August 2014
Are You Aware of These Household Hazards?
You can't protect your child from every cut, scrape, or bruise. Such injuries are virtually a rite of childhood. You can take precautions to make your home a safer place, though. Below are 4 household hazards you may have never considered.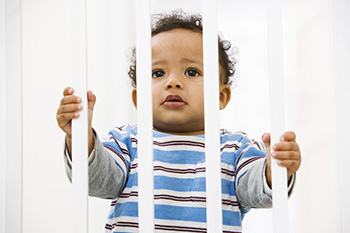 Baby-gate blues
When childproofing your home, you likely installed a safety gate. These devices stop children from falling down stairs or entering off-limit areas. When not used properly, though, they can cause injuries.
In one recent study, researchers looked at baby-gate injuries between 1990 and 2010. Nearly 1,800 children were injured every year. Many of them were boys younger than age 2. The most common reason: spills down stairs because a gate wasn't closed or secured properly.
In general, safety gates can protect your child from injury. But be sure to follow these steps:
Always use a gate that meets safety requirements. Avoid older gates shaped like a V. A child's head and neck can get caught in them.

Always close and lock the gate after passing through it.

When installing a gate near stairs, don't use a pressure-mounted version. Screw the gate securely into the wall.
High-chair accidents
High chairs are handy for feeding children at the kitchen table. But they can also contribute to childhood injuries. One recent study estimated that such an injury happens once every hour in the U.S.
Many high-chair accidents occur because children stand in or try to climb out of the seat. To avoid that, always use the safety restraints properly. If you have a folding high chair, make sure it's locked into place before putting your child in it. Always place high chairs on level ground. And don't leave your child alone in one.
Magnet mishaps
Small, high-powered magnets have become quite a health concern for children. If 2 or more are accidently swallowed, their attraction to each other can damage a child's stomach and intestines. They may also cause digestive blocks or blood poisoning. Surgery may be needed. One study noted a major increase in such magnet mishaps over the last decade.
Such magnets have already been banned in products designed specifically for children. But you may still find them in desk toys for adults. Keep them away from children. Regularly inspect toys and play areas for any loose magnet pieces. If you think your child may have swallowed a magnet, call your child's doctor right away. Symptoms of ingestion include stomachache, nausea, vomiting, and diarrhea.
Trampoline troubles
Jumping on a trampoline is a fun activity for many children. But health experts advocate against them. Accidents on trampolines can cause serious injuries. These include concussions, broken bones, and injury to the spine. A spinal injury can lead to paralysis or even death.
It's best to avoid using a trampoline. But if you have one at home, follow these safety tips:
Never let more than 1 person at a time on it. Many injuries occur because 2 people collide.

Don't allow jumpers to do somersaults.

Regularly look carefully at all equipment—including protective padding and netting. Replace or repair items if they aren't in good condition.
Products such as high chairs and baby gates are sometimes recalled for safety reasons. You can check if a product has been recalled at www.cpsc.gov.
Online resources
Consumer Product Safety Commission
Updated: &nbsp
March 21, 2017
Sources: &nbsp
Baby Gate-Related Injuries Among Children in the United States, 1990-2010. Y.W. Cheng, et al. Academic Pediatrics. 2014;14(3):256-61., Fractures from Trampolines: Results from a National Database, 2002 to 2011. R.T. Loder, W. Schultz, and M. Sabatino. Journal of Pediatric Orthopaedics. 2014. Published online ahead of print, doi: 10.1097/BPO.0000000000000189., Magnetic Foreign Body Injuries: A Large Pediatric Hospital Experience. M. Strickland, D. Rosenfield, and A. Fecteau. Journal of Pediatrics. 2014. Published online ahead of print, doi:10.1016/j.jpeds.2014.04.002., Pediatric Injuries Associated with High Chairs and Chairs in the United States, 2003-2010. R.M. Kurinsky, L.M. Rochette, and G.A. Smith. Clinical Pediatrics. 53(4):372-9.
Reviewed By: &nbsp
Turley, Ray, BSN, MSN