Spinal Fusion: Anterior Lumbar
Fusing vertebrae in the lumbar spine may help ease lower back and leg pain. Anterior lumbar fusion is done through an incision in your stomach area. Depending on how many vertebrae are fused, the surgery may take from 3 to 8 hours.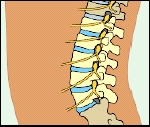 The fusion procedure
Here is what to expect:
An incision is made on one side of your stomach

The disk is removed from between the vertebrae to be fused.

Bone graft is packed into the now-empty space between the vertebrae. In time, the graft and the bone around it grow into one solid unit.

To help keep your spine steady and promote fusion, extra support (see below) may be used.

The incision is closed with sutures or staples.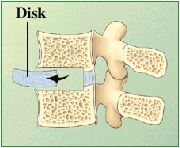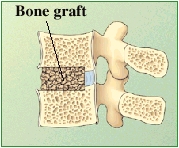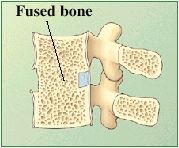 If extra support is needed
Metal supports called instrumentation may be used to help steady your spine while it fuses. These supports are not removed. Your surgeon may use one or more types of support. The most common type of support used with anterior lumbar fusion is a cage. This is a plastic or metal "basket" that is packed with bone graft or stem cells. It's inserted into the empty space where the disk was removed. It remains in the body and is not removed.
Updated: &nbsp
March 21, 2017
Reviewed By: &nbsp
Hanrahan, John, MD,Jasmin, Luc, MD