March 2015
Preventing Poisonings: Know the Latest Threats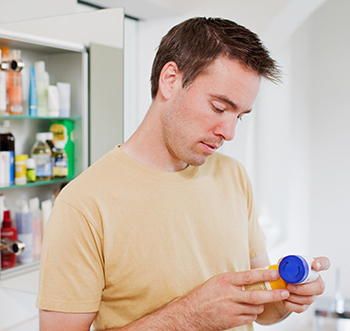 Possible toxins are all around you. Some you may pick out right away, such as a pesticide. Others may not seem as harmful—a household cleaner or medicine. But when ingested by accident or not used in the right way, these products can be poisonous.
In a recent study, researchers looked at the latest data on poisonings in the U.S. They found that prescription pain relievers are a leading cause. These drugs account for 83% of overdoses. Middle-aged adults are most likely to abuse them.
From their analysis, the researchers also noted a rise in less well-known toxins. Read on to learn more about these emerging threats.
Laundry detergent pods
These small packets of concentrated laundry soap may make cleaning clothes easier. But they can be a hazard to children, especially those younger than age 5. Since these pods became available in stores, poisonings from them have spiked. Their colorful packaging may look like candy to a child.
New packaging designs may help prevent children from eating the pods. But still keep them out of little ones' hands. If ingested, the pods can cause vomiting, upset stomach, choking, and drowsiness. Biting into one may also splash detergent into a child's eyes, causing redness and pain.
Energy drinks
These beverages are packed with caffeine and sugar. Too much of these substances can lead to an irregular heartbeat, anxiety, dehydration, high blood pressure, and sleeping problems. Young children are mainly at risk. Since 2010, half of the overdoses from energy drinks have occurred in children younger than age 6.
One dangerous trend mixes energy drinks with alcohol. Popular among young adults, these combos may make it hard for people to know how drunk they are. As a result, they may end up drinking too much alcohol.
Synthetic pot
Synthetic pot is also known as K2 or spice. It's a toxic mixture of herbs and manmade chemicals. Some of these chemicals are like those found in marijuana—hence the name. But the drug's effects are vastly different.
When smoked, synthetic pot can cause a rapid heartbeat, high blood pressure, anxiety, and vomiting. At high doses, it can even be deadly. Some people have suffered a heart attack after taking it.
Many of the chemicals in synthetic pot are illegal. But you can still find it online or in head shops, stores that sell drug-related items. Makers of the product simply alter some of the chemicals to avoid legal problems.
Bath salts
This illegal drug looks like Epsom salt. But it isn't used in the same way. Bath salts can be swallowed, inhaled, or injected. A chemical called cathinone gives a potent high. People who overdose on the drug may suffer heart problems, such as a rapid heartbeat. Hallucinations and panic attacks are also possible.
Bath salts are available in the same places as synthetic pot. They may be labeled as plant food or phone screen cleaner. Product names include white lighting, bloom, and vanilla sky.
National Poison Prevention Week is the third week of March. Find out how you can protect your family from poisonings.
Online resources
Updated: &nbsp
March 21, 2017
Sources: &nbsp
Emerging Drugs of Abuse. M. Nelson, S. Bryant, and S. Aks. Emergency Medicine Clinics of North America. 2014;32(1):1-28., Energy Drinks and Alcohol: Links to Alcohol Behaviors and Consequences Across 56 Days. M. Patrick and J. Maggs. Journal of Adolescent Health. 2014;54(4):454-9., Health Hazards Associated with Laundry Detergent Pods—United States, May-June 2012. CDC. Morbidity and Mortality Weekly Report. 2012;61(41):825-9., Pediatric Exposure to Laundry Detergent Pods. A. Valdez, et al. Pediatrics. 2014;134(6):1127-35., Poisoning in the United States: 2012 Emergency Medicine Report of the National Poison Data System. R.C. Dart, et al. Annals of Emergency Medicine. 2014. Published online ahead of print, doi: 10.1016/j.annemergmed.2014.11.001., The K2/Spice Phenomenon: Emergence, Identification, Legislation, and Metabolic Characterization of Synthetic Cannabinoids in Herbal Incense Products. L. Brents and P. Prather. Drug Metabolism Reviews. 2014;46(1):72-85.
Reviewed By: &nbsp
Turley, Ray, BSN, MSN