Resources for Heart Health
Living with heart disease means making a lot of changes. You're likely to have a range of new feelings to deal with. Reach out to the people close to you. Also, support groups can provide helpful advice.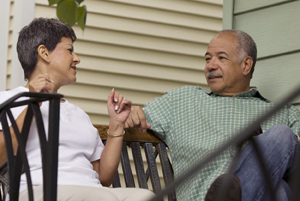 Family and Friends
You may have concerns about making changes in your life. Talk over your feelings with someone you trust. Family and friends often want to help but may not know how. Ask a friend to go to the store with you and pick out healthy foods. Be clear about any physical limits you have, such as limiting the distance you can walk. Support from friends and family not only feels good, it's a great stress reducer.
Resources
Your cardiac rehabilitation program and local hospital or clinic

American Association of Cardiovascular and Pulmonary Rehabilitation www.aacvpr.org

American Diabetes Association 800-342-2383 www.diabetes.org

American Heart Association 800-242-8721 heart.org

Your Guide to Lowering Your Blood Pressure with DASH www.nhlbi.nih.gov/health/public/heart/hbp/dash

National Heart, Lung, and Blood Institute 301-592-8573 www.nhlbi.nih.org

WomenHeart: The National Coalition for Women with Heart Disease 202-728-7199 www.womenheart.org

The member services department of your health insurance plan

The medical benefits department, human resources department, or wellness center at your workplace

An Internet or library search on heart disease, cardiovascular disease, coronary artery disease, peripheral artery disease, or stroke
Updated: &nbsp
March 21, 2017
Sources: &nbsp
Harvard Medical Center, Harvard Health Letter, 14(5), Getting the most from cardiac rehabilitation. Almost anyone with heart disease can benefit from a comprehensive program of exercise and education., Jan 2004, pp 5, Hershberger PJ, Robertson KB, Markert RJ. Personality and appointment-keeping adherence in cardiac rehabilitation. Journal of Cardiopulmonary Rehabilitation. March/April 1999;19(2):106-111., Oldridge N, Gottlieb M, Guyatt G. Predictors of health-related quality of life with cardiac rehabilitation after acute myocardial infarction. Journal of Cardiopulmonary Rehabilitation. March/April 1998;18(2):95-103., Pinkowish MD. New CAD risk factors: Interesting, but how useful? Patient Care. June 15, 1998;32(11):134., Shaw DK, Sparks KE, Jennings HS. Transtelephonic exercise monitoring: a review. Journal of Cardiopulmonary Rehabilitation. July/August 1998;18(4):263-270.
Reviewed By: &nbsp
Garg, Manish, MD,Jey, Arthur Ricardo, MD