Cardiac Rehabilitation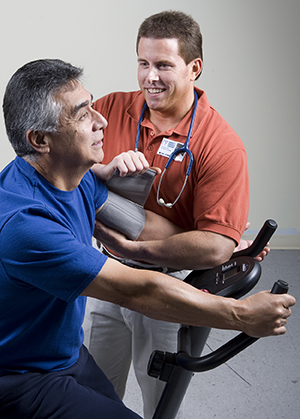 Cardiac rehabilitation ("cardiac rehab") is a professionally supervised program designed by your healthcare team. It will help you recover from your heart problem and reduce your risk of future heart problems. Along with a tailored exercise program, cardiac rehab provides education and counseling to improve health.
Your rehab program
Your cardiac rehab program may start while you're still in the hospital. After you leave the hospital, you may go to a facility for rehab classes. You'll regain some strength and learn how to exercise safely. Once you do that, your healthcare provider may prescribe an exercise program for you to do at a gym or at home.
As an inpatient
You may start light exercise within 2 days of entering the hospital once you receive the healthcare provider's approval. Your activity may be limited based on the procedure you had such as bypass surgery, valve replacement, coronary angioplasty, or coronary stenting.
As an outpatient
As early as 1 to 2 weeks after leaving the hospital, you can join a supervised rehab program. Ask for contact and enrollment information before you leave the hospital. See if your healthcare team can get an appointment set up before you are discharged home.
Exercises will be prescribed to help you build strength and movement. The first month will most likely include easier exercises. Over time, you'll exercise harder to improve your endurance.

Your heart, oxygen saturation, and blood pressure may be monitored as you work.

Cardiac rehab programs are tailored to meet your needs. Some people may participate in the program for 6 weeks while others will participate 6 months or longer.
Maintain the benefits to your health
Don't stop once you've finished your program! Make what you learned in rehab a regular part of your life. Here are some tips:
Work out at home or at a gym. Try watching a new workout video each week. Take an exercise class. Find something that keeps you interested.

Ask family and friends to help you stay motivated. The healthy lifestyle changes can benefit them as well by partnering up and working out together.

Make other lifestyle changes to improve your heart and overall health. Quit smoking. Make changes to lower your stress. Lose excess weight. And lower your blood pressure and cholesterol.

It's important to keep an open conversation with your healthcare provider about your progress and goals.
Updated: &nbsp
November 14, 2017
Sources: &nbsp
Kwan, G., Cardiac Rehabilitation, Circulation, (2012); 125; e369-e373
Reviewed By: &nbsp
Gandelman, Glenn, MD, MPH,Image reviewed by StayWell art team.,Snyder, Mandy, APRN