July 2014
Diabetes Rates Have Nearly Doubled
Diabetes affects many Americans. You or a loved one may even have it. It's a disease that can have an impact on your entire body—in particular, your heart, eyes, and kidneys. It's the 7th leading cause of death in the U.S. And it's on the rise.
Diabetes rates going up
More and more adults in the U.S. are learning firsthand about diabetes. That's the finding of a recent study. Researchers looked at diabetes rates over 2 decades, from 1988 to 2010. They used the results of national health surveys...
Researchers found a troubling trend. Over 20 years, the prevalence of diabetes nearly doubled. In 1988, only 5.5% of the population was diagnosed with the disease. In 2010, that number had leaped to 9.3%. More than 29 million adults are now living with diabetes.
Why the dramatic rise? Researchers suspect obesity may play a large part. In their study, they saw a similar spike in the number of people who were obese. Another contributing factor: More Americans are living longer. They are at risk for more diseases, including diabetes. Plus, they are sitting more and exercising less.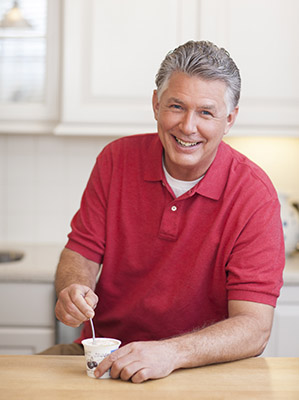 Latest ideas on prevention
You can do a lot to prevent diabetes. Experts know a healthy diet and regular physical activity can help. But they continue to explore ways to avoid the disease. Here are 4 of the latest discoveries.
Grab some yogurt
One study followed the eating habits of more than 4,100 people for 7 days. Those who ate the most yogurt were 24% less likely to have diabetes. Eating low-fat dairy items like yogurt in place of high-fat foods may explain the link. How much do you need to eat? Researchers figured 4.5 servings a week.
Sip on caffeinated coffee
Drinking coffee may help fend off diabetes. So suggests a study of more than 120,000 adults. People answered periodic health surveys for more than 20 years. Those who drank more coffee over a 4-year period weren't as likely to get diabetes in the next 4 years. Experts didn't see the same result for tea or decaffeinated coffee.
Try the Mediterranean diet
Past research has shown that eating a Mediterranean diet can keep your heart healthy. It may also help you avoid diabetes. In the Annals of Internal Medicine, scientists compared the diets of 3 groups of older adults. One group ate a low-fat diet. The other 2 ate a type of Mediterranean diet. One group cooked with extra virgin olive oil. The other munched on more mixed nuts. Those in the olive-oil group were 40% less likely to develop diabetes.
Lift some weights
It isn't all about what you eat. Staying active goes a long way in preventing diabetes, too. Don't like to walk or run? Try muscle-strengthening or resistance activities. A recent study of nearly 100,000 women found those who lifted weights or did yoga, stretching, or toning had a lower risk for diabetes. That was especially the case if they combined such exercise with aerobic pursuits.
Learn more about preventing diabetes.
Online resources
American Academy of Family Physicians
National Institute of Diabetes and Digestive and Kidney Diseases
Updated: &nbsp
March 21, 2017
Sources: &nbsp
Changes in Coffee Intake and Subsequent Risk of Type 2 Diabetes: Three Large Cohorts of U.S. Men and Women. S. Bhupathiraju, et al. Diabetologia. 2014. Published online ahead of print: 10.1007/s00125-014-3235-7., Dietary Dairy Product Intake and Incident Type 2 Diabetes: A Prospective Study Using Dietary Data from a 7-Day Food Diary. L. O'Connor, et al. Diabetologia. 2014;57:909-17., Muscle-Strengthening and Conditioning Activities and Risk of Type 2 Diabetes: A Prospective Study in Two Cohorts of U.S. Women. A. Grontved, et al. PLoS Med. 11(1):e1001587., Prevention of Diabetes with Mediterranean Diets: A Subgroup Analysis of a Randomized Trial. J. Salas-Salvado, et al. Annals of Internal Medicine. 2014;160(1):1-10., Trends in Prevalence and Control of Diabetes in the United States, 1988-1994 and 1999-2010. E. Selvin, et al. Annals of Internal Medicine. 2014;160(8):517-25.
Reviewed By: &nbsp
Turley, Ray, BSN, MSN