June 2015
More Teens Skimping on Sleep
Staying up late and sleeping in. Biologically, your teen's brain may be programmed to such a sleep cycle. Only it isn't helping him or her secure needed shuteye. In fact, more teens today are skimping on sleep, says a recent study.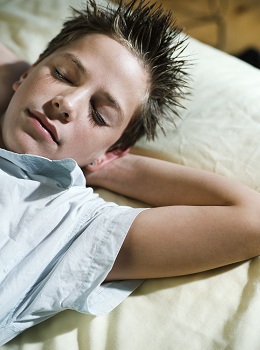 Teen sleep patterns
In the journal Pediatrics, researchers looked at the sleep habits of more than 270,000 teenagers. These teens participated in a yearly survey called Monitoring the Future. The national survey has asked a random sample of teens about their behaviors and beliefs since 1991.
In the survey, 2 of the questions focus on sleep. One asks participants how often they sleep at least 7 or more hours a night. The other asks how often the teens sleep less than they should.
From 1991 to 2012, researchers noted a gradual sleep shift among teenagers. Fewer of them overall slept at least 7 hours a night. The age group that reported the least amount of shuteye was 15-year-olds. Across all age groups, girls were less likely than boys to log enough Zs. So, too, were African Americans and Hispanics.
Sleep and your teen's health
Earlier this year, the National Sleep Foundation changed its guidelines on sleep. It now advises teens shoot for at least 8 to 10 hours of sleep each night. Not doing so may put your child at risk for many health problems. Poor or scant sleep has been linked to more illnesses, obesity, and future heart troubles.
Adolescents who don't sleep enough may do worse at school, too. They may have trouble thinking or remembering. Plus they may have low self-esteem, depression, or other mental health issues. One study even found that teens who slept less tended to abuse alcohol and drugs more.
You can't monitor your child's every sleeping moment. And it isn't about how much time your teen spends in bed. So ask your teen regularly about his or her sleep schedule. Your child may not be sleeping well if he or she has trouble waking up in the morning or falls asleep during the day. He or she may also be irritable, angry, or unfocused.
Screen Time vs. Sleep Time
Scientists suspect more screen time may be behind the decline in adolescent sleep. That's the finding of one recent study of more than 2,000 fourth- and seventh-graders. Children with televisions and other screens in their bedrooms were less likely to report adequate sleep. They also tended to fall asleep much later.
What's the connection? Watching TV may well keep children awake. But small screens—namely, phones, tablets, and computers—may do the most harm to their sleep schedules. Phones, in particular, may disrupt slumber with incoming emails, texts, and other notifications.
Shutting off phones and other electronics may help your child sleep better. Here are other tips for a better night's rest.
Online resources
National Heart, Lung, and Blood Institute
Updated: &nbsp
March 21, 2017
Sources: &nbsp
Functional Consequences of Inadequate Sleep in Adolescents: A Systematic Review. T. Shochat, M. Cohen-Zion, and O. Tzischinsky. Sleep Medicine Reviews. 2014;18(1):75-87., National Sleep Foundation's Sleep Time Duration Recommendations: Methodology and Results Summary. M. Hirshkowitz, et al. Journal of the National Sleep Foundation. 2015;1(1):40-3., Prospective Relationship Between Poor Sleep and Substance-Related Problems in a National Sample of Adolescents. M.M. Wong, G.C. Robertson, and R.B. Dyson. Alcoholism, Clinical and Experimental Research. 2015;39(2):355-62., Protective and Risk Factors for Adolescent Sleep: A Meta-Analytic Review. K. Bartel, M. Gradisar, and P. Williamson. Sleep Medicine Reviews. 2015;21:72-85., Sleep Duration, Restfulness, and Screens in the Sleep Environment. J. Falbe, et al. Pediatrics. 2015;132(2):e367-e75., The Great Sleep Recession: Changes in Sleep Duration Among U.S. Adolescents, 1991-2012. K.M. Keyes, et al. Pediatrics. 2015;135(3):460-8.
Reviewed By: &nbsp
Turley, Ray, BSN, MSN