For Parents: Helping Your Teen Be Active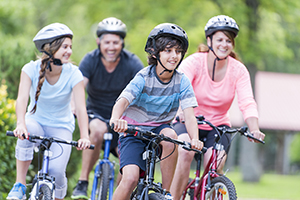 Kids are never too old for active play. Moving around builds strong muscles and bones. And being active helps your teen stay at a healthy weight. Encourage any kind of activity your teen enjoys, whether it's alone or with friends.
Get your kids off the couch
Find out what your teen likes to do—besides watching TV and playing video games. Then say, "Go for it!" Help your teen get at least 60 minutes or more of activity every day. (It's a good goal for parents, too!) The time can be broken up throughout the day. If the weather's bad or you're worried about safety, find supervised indoor activities for your teen to try.
Step away from the screen
Sitting in front of a TV or computer screen all day turns teens into zombies. Limit screen time to 1 to 2 hours a day. If your teen has a TV or computer in the bedroom, why not replace it with a stereo? For many kids, dancing and singing are fun ways to get moving.
Set and enforce realistic goals
Work with your teen to set goals for active time and screen time. Don't lay down the law. Instead, discuss and set reasonable goals. Then make sure your kids follow through. And reward them when they do! To get started:
Track your teen's active time each day. Use a timer to count the minutes. Also track time spent on TV, the computer, and video games. (Don't count homework on the computer, but do include things like web surfing and text messaging.)

Set goals for more active time and less screen time. Start with small changes, such as 15 minutes less screen time and more activity each day. Use the timer to make sure these goals are met. Work up to bigger goals each week.

Getting exercise doesn't have to be fancy. Any activity or sport will do. Out of ideas? Look into programs offered by the YMCA. Boys & Girls Clubs, local youth groups, or your child's school. Also check with the local parks and recreation department. Many cities offer low-cost or free programs.
Stay involved
As teens grow up, they may spend less time with you and more time with friends. Here are some ways you can stay involved:
Plan outings for your teen, a few friends, and yourself. Spend an afternoon at the basketball court or rock-climbing gym. Or visit a museum or shopping mall. Walking is great exercise!

Find out what your teen does at friends' houses. Encourage being active instead of vegging out on the couch. Share your ideas with other parents.
Ideas for busy families
It may seem like your family doesn't have time to be active. But little changes add up. Squeezing activity into a busy day can make a difference. Here are some things you and your teen can try:
Make chores active. Wash the car, rake the leaves—whatever gets you going!

Walk to a bus stop a few blocks farther away than usual.

Take the stairs instead of an elevator or escalator.

Set aside time one Saturday each month to take a walk as a family.

Park the car farther from a store and walk to the entrance.

Have your teen walk to a friend's house instead of getting a ride.
Updated: &nbsp
February 20, 2018
Reviewed By: &nbsp
Adler, Liora C, MD,Images Reviewed by Staywell medical art team.,Wilkins, Joanna, RD, CD