March 2016
Stool Test Works Well to Find Colon Cancer
For years, colonoscopy has been the main test for finding colon cancer. But an annual stool test may work as well—without the unpleasant prep time, new research says.
The test is called the fecal immunochemical test. Stool samples are checked in a lab for tiny amounts of blood. The blood may mean that there are tumors or polyps in the large intestine (colon).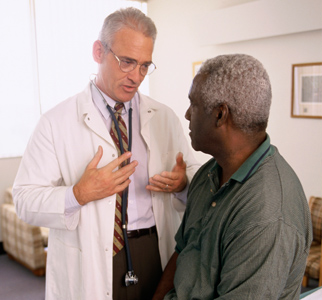 Colonoscopy is an invasive test. The healthcare provider puts a long, thin tube (catheter) and a tiny camera into the colon. The provider uses the camera to look for polyps or tumors. Any found can be removed with tiny tools.
Prep is a challenge
The drawback is that you must be given medicine (sedation) to help you relax during the test. And you must take powerful laxatives the day before the test to empty your bowels. Many people don't like the prep needed for a colonoscopy. Some people skip the test because of it.
Doctors knew that the stool test worked well the first time it was used by a patient. But they thought the test might miss tumors or polyps if used again the next year or the year after.
To find out if this was true, researchers at Kaiser Permanente in Oakland, CA, tracked the stool tests used by nearly 325,000 people over 4 years. The first year, the test found colon cancer in about 85% of people in the study who were diagnosed with the disease. But the test also found colon cancer in 73% to 78% of people in years 2 through 4.
Benefits and drawbacks
A colonoscopy only has to be done every 10 years and it finds nearly 100% of cancers. The fecal blood stool test must be done every year. But the stool test is more convenient. The samples can be gathered at home and dropped off for testing.
If the lab does find blood in the sample, you will need to have a colonoscopy to have the tumor or polyp removed.
Based on the results of the study, published in the Annals of Internal Medicine, the researchers said that screening programs should offer both fecal blood tests and colonoscopy.
"You end up getting more people screened, because it allows people to select what works the best for them," said study co-author Douglas Corley, MD, PhD, MPH.
Learn more about screening for colorectal cancer.
Online resources
Updated: &nbsp
March 21, 2017
Sources: &nbsp
from HealthDay News