Sexuality Issues for Women Being Treated for Cancer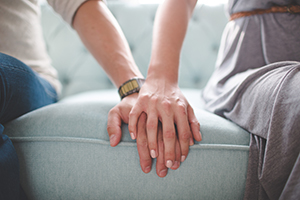 When you are having treatment for cancer, you may have side effects that affect your physical response to sex. You may also have changing feelings about who you are, how you feel about yourself, and how you feel about your relationships. All of these feelings can influence your sexuality.
How cancer treatment may affect sexuality
Sexuality not only refers to sexual intercourse, but to other means of sexual expression, such as touching and kissing. Treatment for cancer can cause many changes that may affect your sexuality. It can also change the physical or emotional closeness you share with another person. Different treatments can cause different physical and psychological changes that can affect how you feel, look, and function. These changes may be temporary, or they may last a long time.
Treatment may affect you physically so that your body doesn't respond sexually the way you've learned to expect. These are some of the sexual changes that you may have during treatment for cancer.
Infertility

Low sexual desire

Painful intercourse

Trouble reaching orgasm

Vaginal dryness

Vaginal shortening or narrowing

Higher risk of infection
All of these changes can affect a woman's sexuality and her ability and interest in sexual activity.
Self-esteem and body image are important factors that define how a woman feels about herself. If your feelings about yourself and your body change, it can influence how you feel about being intimate with others. These are some of the side effects of treatment that may affect your body image.
Anxiety

Fatigue

Hair loss

Menopause, brought on by cancer treatment

Pain

Weight changes
Questions to ask before treatment
Many women are uncomfortable talking about sex. It may help to bring up the subject with your doctor or nurse before you start treatment so you are better prepared for how it may affect you sexually. Take the time to gather as much information as possible. Here are some questions you may want to ask your doctor or nurse before treatment. Consider asking your partner to be with you during these discussions.
How will my cancer and its treatment affect my desire for sex?

How will it affect my sexual function?

How long will these changes last?

What can I do about them?

Will I cause harm to myself or to my partner if I have sex?

Are there any restrictions that I should be aware of?
Talking about sexual changes
Whether the changes are short-term or they last longer, you can find ways to feel good about yourself and be intimate with your partner. It is important to remember to be patient and give yourself time.
Express what is happening and how you feel. You may feel awkward talking about sexual issues and might find it hard to be honest about how you feel. Your partner and even your doctor or nurse might wait for you to bring up the subject of sex because they don't want to make you feel uncomfortable. It can be helpful, though, if you ask questions and talk about your sexual issues or concerns. Use these questions to help you put your feelings into words and better communicate with others about your experience.
How has my illness changed the way I see myself and feel about myself?

How has my illness interfered with my role as partner?

How has my illness affected my sexual functioning or response?
Talk with your healthcare team. If you notice sexual changes, tell your doctor or nurse. They may be able to ease some of the side effects of treatment. Being able to talk about these issues, in particular, may help you.
If you have any concerns about sexual activity, ask your doctor or nurse. It's important to not let fear keep you from avoiding intimacy.

Report vaginal discharge or bleeding, fever, or pain to your doctor or nurse. Treatments may be available to manage these problems.

Discuss treatment options with your healthcare team if you have menopause symptoms because of cancer treatment.
It might be helpful to talk to social workers, counselors, or other women in support groups. Your doctor or nurse may be able to refer you to someone.
Coping with sexual changes
After cancer treatment, one thing that can help you maintain or restore sexual energy is to focus on your physical recovery by eating a healthy diet and being active. This can help you feel better mentally and physically. Remember that your partner is also affected by your cancer, so talk about both of your feelings and fears. It can also help to explore different ways of showing love, such as hugging and holding, stroking and caressing, or talking. When you are being intimate, use these tips to help make the experience a positive one.
If needed, use birth control during cancer treatment so you don't have to worry about getting pregnant.

Choose a time for intimacy when you and your partner are rested and free from distractions.

Create a romantic mood.

If your feelings about how your body looks keeps you from being intimate, use dim lights, wigs, lingerie, and other things to cover wounds or scars.

If pain or nausea prevents you from being intimate, try taking pain or nausea medicines prescribed by your doctor 30 to 60 minutes beforehand.

If needed, use a water-soluble lubricant for intercourse when using condoms. If you are not using condoms, you can use water-based or silicone-based lubricants..

Try different positions until you find one that is more comfortable and less tiring for you. Use pillows for added comfort.

Remember that cancer is not contagious, and that being intimate will not cause the cancer to come back or grow.

Relax and try to find humor where you can.
Updated: &nbsp
June 09, 2018
Reviewed By: &nbsp
LoCicero, Richard, MD,Sather, Rita, RN