Monitoring Your Symptoms
It is very important to check your asthma symptoms so that you can take action if there is a change. There are two ways to do this. Some people use a peak flow meter. The peak flow meter measures how well air is moving in your lungs. And some people keep track of small changes in their symptoms and write them down every day. Your healthcare provider will help you figure out which way is best for you and tell you what to do if your symptoms get worse.
If you use a peak flow meter, you should know your personal best reading. You should also know how to use the meter correctly, and how often you should measure your peak flow.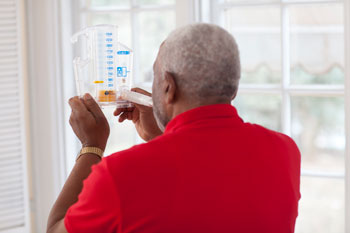 Using your peak flow meter
Here are the steps to follow:
To start, stand or sit up straight. Use the same position every time.

Hold the meter and move the marker to zero or to the lowest number.

Breathe in as deeply as you can.

Place your lips tightly around the mouthpiece of the meter.

Blow one time as hard and fast as you can.

Write down the number next to the marker every time you use the meter.
Know your symptoms and what to do when you have them. Asthma zones are used to help you know what you should do.
Zone

How I feel

My symptoms

What I should do

Green zone

I feel good

No wheezing, coughing, or chest tightness

Asthma is not bothering your sleep, work, or school

You rarely or never use your quick-relief medicine

Peak flow is 80% to 100% of your personal best

Keep taking your long-term controller medicines

Avoid asthma triggers

Yellow zone

I don't feel good

Some wheezing, coughing, or chest tightness

When at rest, your breathing is a little faster than normal

Asthma symptoms wake you up at night

Peak flow is 50% to 80% of your personal best or has lessened by at least 15%

You begin to have symptoms of a respiratory infection, if infections trigger your symptoms

Keep taking your long-term controller medicines

Use your quick-relief medicine

If you do not feel better within an hour after using your quick-relief medicine, make sure you know what to do. You might use more medicine or use other medicine.

Call your healthcare provider if you are unsure

Red zone

I feel very bad

Continuous wheezing, coughing, or trouble breathing

Asthma symptoms make it hard for you to sleep

Peak flow is less than 50% of your personal best

Use your quick-relief medicines

Call your healthcare provider

Call 911 if it is getting harder to breathe, if you can't walk or talk, or if your lips or fingers look gray or blue
Updated: &nbsp
October 13, 2017
Reviewed By: &nbsp
Berry, Judith, PhD, APRN,Blaivas, Allen J., DO