HEALTH INSIGHTS
Chronic Lung Disease, Helping with Treatment: for Caregivers
Chronic Lung Disease: Helping with Treatment, For Caregivers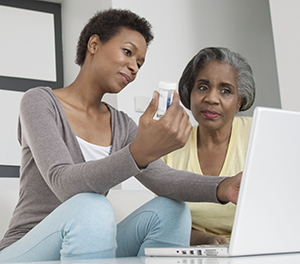 For someone with chronic lung disease, visits with the healthcare provider are key for good health. Encourage your loved one to take the lead in their care. Then give them support as needed. Work closely with the healthcare team. Make sure all appointments are kept. Also help make sure that treatment instructions are followed.
The healthcare team
Many healthcare providers can be involved in treating chronic lung disease. Get to know these providers and what they do. This will help you feel better about asking questions.
Pulmonologist. Specialist focused on lung problems. May work with a primary healthcare provider to guide the treatment plan.

Respiratory therapist. Evaluates breathing skills and teaches breathing methods to improve symptoms.

Physical therapist. Teaches energy-saving methods. Oversees exercise and physical activity.

Nurse. Helps with all types of care. Can help answer questions and put treatment plans into action.

Social worker or case manager. Helps with paperwork. Answers questions about healthcare issues. Can also provide referrals to needed services.

Pharmacist. Fills prescriptions. Also gives information about medicines and how to take them safely.

Nutritionist. Helps with the person's nutrition needs.

Representative from a home healthcare company. Helps with equipment needed for treatment, such as oxygen. Can set up equipment and show how it is used.
Visits to the healthcare provider
Visit the healthcare provider with your loved one. To make the most of these visits, work together to:
Keep a file for health records. Include all medicines that are taken. Gather as much health history as you can. Bring the file with you to the healthcare provider's visit.

Keep track of changes in symptoms, diet, and physical activity.

Make a list of questions and concerns. Make sure these are addressed before you leave the healthcare provider's office.

Bring a notepad. Write down what the healthcare provider says.
Common treatments
Try to learn about your loved one's treatment. This helps you support good care habits. Here are some common treatments:
Medicines. These help manage symptoms. Learn the names of any medicines given. Learn how they work and when they are taken. Some medicines need a special device. This may be an inhaler or nebulizer. Know how to use these devices.

Oxygen therapy. This helps improve breathing. If oxygen is needed, follow all safety guidelines.

Pulmonary rehab (rehabilitation). This program trains people on exercise, emotional support, and managing symptoms. Team members often include healthcare providers, respiratory therapists, and physical therapists. Go to sessions with your loved one when you can.

Nutrition therapy. Dietary changes can help manage chronic lung disease. Nutritionists often work on finding changes that may be helpful.
When to call the healthcare provider
Create an action plan with your loved one for when to call the healthcare provider. Have emergency telephone numbers ready. The following are signs that there may be a problem:
More shortness of breath, wheezing, or coughing

Mucus has increased, changed color, or is bloody

Tightness in the chest that won't go away

A fever or chills

Feeling more tired and worn out (fatigue)
Updated: &nbsp
April 10, 2019
Sources: &nbsp
Diagnosis and Management of Stable Chronic Obstructive Pulmonary Disease: A Clinical Practice Guideline Update from the American College of Physicians, et al. Qaseem, A. Annals of Internal Medicine. 2011;155(3):s179-91., GLOBAL STRATEGY FOR THE DIAGNOSIS, MANAGEMENT, AND PREVENTION OF CHRONIC OBSTRUCTIVE PULMONARY DISEASE- updated 2016. Global initiative for chronic obstructive lung disease. 2015.
Reviewed By: &nbsp
Alan J Blaivas DO,John Hanrahan MD,Daphne Pierce-Smith RN MSN CCRC