Taking Amlodipine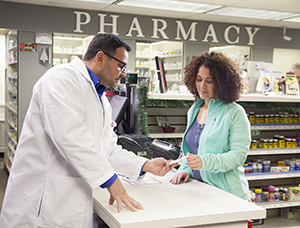 Amlodipine (am-LO-di-peen) is a calcium channel blocker. It helps relax your blood vessels and get more blood and oxygen to your heart. Relaxing the blood vessels also helps lower your blood pressure and relieve any chest pain you may have.
Medication tips
Read the fact sheet that comes with your medicine. It tells you when and how to take it. Ask for a sheet if you don't get one.

Take your medicine at the same time each day. If it upsets your stomach, take it with food or milk.

If you miss a dose, take it as soon as you remember — unless it is almost time for your next dose. If so, skip the missed dose. Do not take a double dose.

Call your doctor or pharmacist if you have any questions about taking your medicine.

Take your medicine even if you feel well. Most people with high blood pressure don't feel sick.
For your safety
Ask your doctor or pharmacist if there are any foods or medicines you should avoid.

To prevent dizziness, get up slowly after sitting or lying down.

Do not stop taking your medicine unless your doctor tells you to. Doing so can make your condition worse. When stopping this medicine, the dose may need to be slowly decreased.

Tell your doctor or pharmacist before taking any other prescription or over-the-counter medicines. This includes vitamin or mineral supplements and herbal remedies.

Talk to your doctor or pharmacist about whether drinking alcohol is safe while taking amlodipine.

Be sure to refill your prescription before you run out.

Do not share your medicine with anyone.

Ask your doctor how often you should have your blood pressure checked.
When to seek medical advice
Call your healthcare provider right away if any of these occur:
You notice swelling in your ankles or feet or your skin flushes

You have a headache or nausea

You feel tired or weak

You have severe dizziness

You feel chest pain

You have trouble breathing

You develop a skin rash or itching
Updated: &nbsp
July 25, 2018
Sources: &nbsp
Pedrinelli, R. Amlodipine, Enalapril, and Dependent Leg Edema is Essential Hypertension, Hypertension (2000)35; 621-625
Reviewed By: &nbsp
Fetterman, Anne, RN, BSN,Gandelman, Glenn, MD, MPH,Image reviewed by StayWell art team.