Understanding Liver Abscess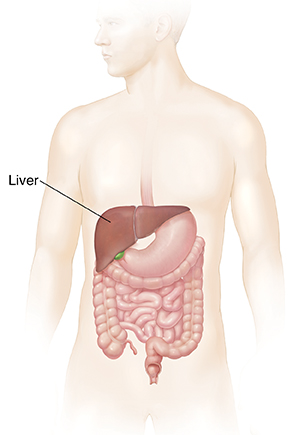 A liver abscess is a pocket of pus that forms in the liver. It must be treated right away to prevent serious problems.
How does a liver abscess happen?
A liver abscess most often occurs because of infection from germs such as bacteria, parasites, or fungi. The type of germ determines what type of liver abscess you have:
Bacteria cause a pyogenic liver abscess

Parasites cause an amebic liver abscess

Fungi cause a fungal liver abscess
The infection may have:
Spread to your liver from other structures in your belly (abdomen), such as the gallbladder, bile ducts, bowels, or appendix

Traveled in your bloodstream to your liver from more distant areas of the body

Happened after surgery or an injury to your liver
Symptoms of liver abscess
Symptoms of a liver abscess may take 2 to 4 weeks to appear. They may include:
Fever, chills, sweats

General discomfort or sick feeling

Pain in the upper right part of the belly

Weight loss

Nausea, vomiting, or both

Diarrhea, constipation, or both

Cough

Chest pain or shoulder pain

Yellowish eyes and skin (jaundice)
Treatment for liver abscess
Treatment depends on the type of liver abscess that you have. To find this out, your provider may put a needle through your skin into the abscess. A sample of pus will be removed and checked. In many cases, treatment begins in the hospital and continues at home. Treatment may include:
Taking medicines, such as antibiotics. These may be given by an IV (intravenous) line placed in a vein in your arm or hand. Or you may take them by mouth. You may need the medicines for a few weeks or longer.

Draining the pus from the abscess. The doctor may do this using a needle or tube (catheter) put through your skin. In severe cases, the doctor may make a cut (incision) through your skin to reach your liver.

Having imaging tests. In many cases, your healthcare provider will order follow-up tests of your liver after treatment. This is often done by ultrasound, CT scan, or MRI.
Possible complications of liver abscess
These can include:
Burst (ruptured) abscess

Infection spreading into other parts of the body such as the belly, lungs, heart, brain, and eyes

Death
When to call your healthcare provider
Call your healthcare provider right away if you have any of these:
Symptoms, such as fever or pain, that don't get better with treatment or get worse

Yellowish skin or eyes (jaundice)

New symptoms, such as trouble breathing
Updated: &nbsp
March 21, 2017
Sources: &nbsp
Diagnosis and Management of Complicated Intra-abdominal Infection in Adults and Children: Guidelines by the Surgical Infection Society and the Infectious Diseases Society of America. Clinical Infectious Diseases 2010;50:133-64., Ferri F. Liver Abcess. In: Ferri F, editor. Ferri's Clinical Advisor. Philadelphia: Elsevier; 2016. p. 12-3., Herrera JL, et al. Liver Abscess. In: McNally P, et al, editors. GI/Liver Secrets Plus. 5 ed. Philadelphia: Saunders; 2015. p. 237-42., Kaldas FM, et al. The Management of Hepatic Abscess. In: Cameron JL, et al, editors. Current Surgical Therapy. 11 ed. Philadelphia: Elsevier; 2014. p. 341-6., Sifri CD, et al. Infections of the Liver and Biliary System. In: Mandell D, et al, editors. Mandell, Douglas, and Bennett's Principles and Practice of Infectious Diseases. 8 ed. Philadelphia: Saunders; 2015. p. 960-8.
Reviewed By: &nbsp
Images Reviewed by Staywell medical art team.,Lehrer, Jennifer K, MD,Ziegler, Olivia, MS, PA