Recovering from Mouth or Throat Surgery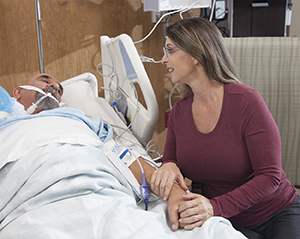 You may go home the same day as your surgery, or you may need to stay in the hospital longer. These first few days after your surgery can be a challenge. You'll have lots of help from your healthcare team. And you'll learn how to care for yourself once you're home.
Right after surgery
You'll wake up in the ICU (intensive care unit). An IV (intravenous) line may be in your arm to provide fluids. You may have an air tube in your nose or a tracheostomy tube in your throat to help you breathe. You may also have a tube in your stomach to provide food. You may feel tired, confused, or groggy. Your mouth or throat may feel dry or sore. Talking may be hard, so something to write with may be at your bedside.
Before leaving the hospital
Your doctors and nurses will check on you after your surgery. They'll explain what you need to do to recover at home. You may be given medicines to take after you leave the hospital. Make sure an adult friend or family member is available to drive you home.
When to call your doctor
Call your doctor right away if you have any of these problems after surgery:
Bleeding or swelling in the mouth or throat

Fever of 100.4°F (38°C) or higher, or as directed by your healthcare provider

Vomiting

Shortness of breath

Swelling in the legs or feet

Pain that's not relieved by medicine
Updated: &nbsp
March 21, 2017
Sources: &nbsp
Pathophysiology and treatment of fever in adults. UpToDate.
Reviewed By: &nbsp
Fraser, Marianne, MSN, RN,Image reviewed by StayWell art team.,Kacker, Ashutosh, MD