Managing PMS: Medications
With your healthcare provider's help, you may find a medication that works for you. Make sure you know how to use your medication. Take medications only as directed. And always read warning labels. Talk to your healthcare provider or pharmacist if you have questions.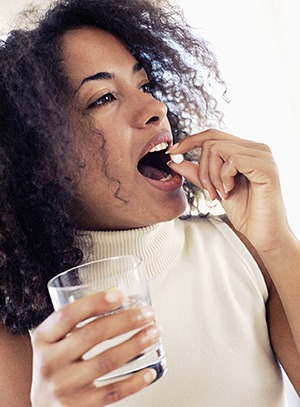 NSAIDs
NSAIDs (nonsteroidal anti-inflammatory drugs) relieve pain. Some can be bought over the counter. These include aspirin, ibuprofen, and naproxen. Stronger NSAIDs may be prescribed for more severe symptoms.
Benefits. NSAIDs relieve headaches, muscle aches, and other physical symptoms. They work best when taken at the first sign of symptoms.

Side effects. NSAIDs can cause stomach upset. Taking them with food may help.

Other concerns. You shouldn't take more than one type of NSAID at a time. Also, NSAIDs may not be safe if you have asthma, heart disease, or kidney problems.
Birth control pills
Birth control pills may be prescribed to control hormone levels. When prescribed for PMS, pills may be taken every day for up to 9 weeks.
Benefits. Birth control pills ease a range of symptoms including breast tenderness and appetite changes.

Side effects. Birth control pills can cause stomach upset and headache.

Other concerns. Rarely, birth control pills can cause blood clots. The risk is higher for cigarette smokers over age 35.
SSRIs
SSRIs (selective serotonin reuptake inhibitors) may be prescribed to help keep serotonin levels stable. SSRIs may be taken every day. Or, they may be taken only during the 2 weeks before your period.
Benefits. SSRIs help relieve emotional symptoms including irritability, depression, and mood changes. They also ease physical symptoms such as bloating, breast tenderness, and appetite changes.

Side effects. SSRIs can cause stomach upset, sleep problems, anxiety, and headache. SSRIs may also reduce interest in sex. This is less likely when SSRIs are taken only for part of the menstrual cycle.

Other concerns. SSRIs shouldn't be used if you take certain antidepressants.
GNRH agonists
GNRH agonists may be used in severe cases when SSRIs and birth control pills are ineffective or can't be tolerated
Benefits. GNRH agonists stop the normal hormonal cycle effectively causing a temporary menopause so the cyclic changes are no longer present.

Side effects. GNRH agonists stop menses, cause hot flashes and hone loss unless given with add back treatment, which consists of continuous doses of estrogen and progestin.
Surgery
This consists of removing the ovaries and should be reserved for very severe cases that do not respond to medical treatment. This should only be considered after very careful consideration of the long-term effects and only after childbearing is complete.
Updated: &nbsp
October 30, 2018
Sources: &nbsp
Treatment of Premenstrual Syndrome and Premenstrual Dysphoric Disorder, Up To Date
Reviewed By: &nbsp
Goode, Paula, RN, BSN, MSN,Image reviewed by StayWell art team.,Sacks, Daniel, MD, FACOG