Anatomy of the Sacroiliac Joint
There are 2 sacroiliac (SI) joints. They are in the very low back (buttocks area). There is 1 joint on either side of the pelvis. The SI joints link the sacrum to the ilium. The sacrum is a triangular bone at the bottom of the spine. The ilium is part of the pelvis. The SI joints are held in place by ligaments. Ligaments are strong tissue that link bone to bone. The joints don't move very much, but they do help with mobility. They work with your spine and femurs to help you bend and walk. They also help bear the weight of your upper body.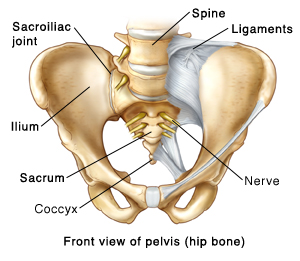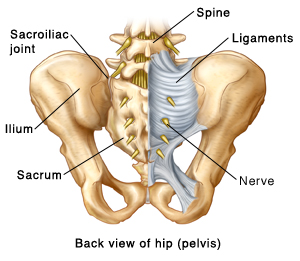 Updated: &nbsp
May 08, 2018
Sources: &nbsp
Cohen SP. Sacroiliac joint pain: a comprehensive review of anatomy, diagnosis, and treatment. Anesthesia & Analgesia. November 2005;101(5):1440-1453., Mahadevan V. Pelvic girdle and lower limb : sacroiliac joint. In: Standring S, ed. Gray's Anatomy : the Anatomical Basis of Clinical Practice. 40th ed. Edinburgh: Churchill Livingstone; 2008:1366-1367., Moore KL, Dalley AF, II. Clinically Oriented Anatomy. Philadelphia, PA: Lippincott Williams & Wilkins; 2006., Netter FH. Atlas of Human Anatomy. 4th ed. Philadelphia, PA: Saunders Elsevier; 2006.
Reviewed By: &nbsp
Bellendir, Trina, MSPT, CLT,Joseph, Thomas N., MD