Getting Started With Cardiac Rehab: Exercise
Being more active is a key part of heart attack prevention. It helps your heart muscle and the rest of your body get stronger. It also helps control other heart risks.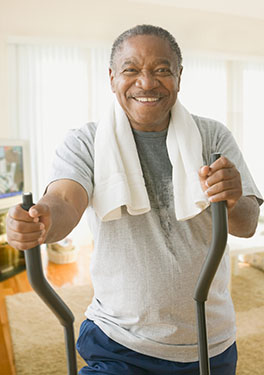 For lasting results, exercise needs to be a lifelong commitment.
Getting started
Join a cardiac rehab program. This is one of the easiest ways to start exercising. When your healthcare provider says it's OK, you can start exercising on your own at home or at a gym. Gradually work toward the goal of exercising at least 150 minutes a week.

Know that a managed plan of exercise will reduce your risk for another heart attack.

Find activities you enjoy, from walking with a friend to playing tennis. If you do what you like, you'll not only enjoy yourself, but you'll also be more likely to stick with it.
Cardiac rehabilitation
In cardiac rehab, a team of providers creates an exercise plan for you and guides you through it. At first, the goal is to regain basic endurance and strength. You'll start with something simple, such as walking. Then you'll be given exercises to help you further increase strength and endurance, as well as flexibility. The skills you learn in cardiac rehab can benefit you for the rest of your life.
Updated: &nbsp
May 14, 2019
Reviewed By: &nbsp
Bellendir, Trina, MSPT, CLT,Joseph, Thomas,N., MD