After Your Type 2 Diabetes Diagnosis
You have been told that you have type 2 diabetes. This is a condition that makes it hard for your body to break food down into energy. Diabetes is a chronic (lifelong) and progressive condition, but it can be managed. With help from your family, your friends, and your healthcare team, you can learn to take care of yourself and stay healthy.
You Can Feel Better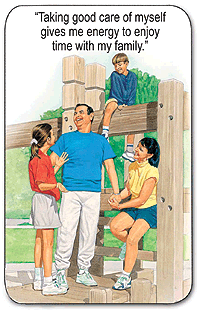 Right now, diabetes may be making you feel tired and rundown. And learning that you have diabetes may make you feel angry, scared, or depressed. These are normal feelings. Taking care of your diabetes can help you feel stronger and have more energy. Doing something to manage your condition may also help you feel more in control of your life.
Working With Your Healthcare Providers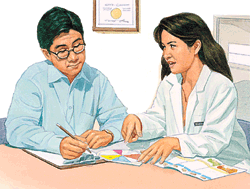 Your healthcare team, guided by your primary care provider, helps you manage your diabetes. You may see:
An endocrinologist, a doctor who specializes in treating people with diabetes.

A registered dietitian, who helps you learn about food and healthy eating for managing diabetes.

A diabetes educator, a nurse or dietitian who teaches you about diabetes and how to manage it.

A health psychologist or social worker, who helps you with your feelings about living with diabetes.
You and your healthcare team will create a plan to manage your diabetes. Following this plan can help you feel better now and limit future health problems.
Updated: &nbsp
March 21, 2017
Reviewed By: &nbsp
Chang, Alice MD,Louise AkinLouise Akin RN BSN