April 2015
Protect Your Young Pitcher from an Overuse Injury
If the warmer weather has your child itching to pitch, don't let him or her overdue it. A recent survey of young ball players found many of them play with arm pain. That can be a sign of an overuse injury. As a parent, you can help prevent this sports-related problem.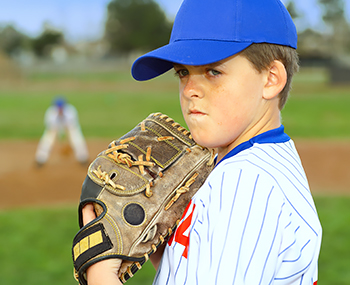 An overload of activity
An overuse injury isn't like a sudden sprained ankle or a broken bone. It occurs over time. Children are more likely to develop one if they play a sport with repetitive movement. Think running, swimming, baseball, and softball. These sports require practicing the same activity for a long period of time. Improper technique and a lack of rest factor in.
For young pitchers, an overuse injury often develops in the elbow or shoulder. The main sign: pain. Your child may feel pain after or while throwing. If the injury is severe, he or she may be in pain all the time.
In a recent study, researchers looked at the prevalence of arm pain in young ball players. The children ranged in age from 8 to 18. The researchers asked them a series of questions. For instance, did they ever play while feeling pain in their arm? Eight out of 10 children said yes. They reported pain and fatigue at least some of the time. These symptoms tended to hamper their time on the field.
Practice vs. prevention
Overuse injuries can affect any child. But some children are more prone to them. These include children with a past history of injury or those with growth problems. Compared with boys, girls also tend to suffer more overuse injuries. Experts aren't sure why. But it may be related to how their bodies move and mature.
To help your child avoid an overuse injury, limit the number of pitches he or she throws in a week. Experts have developed guidelines based on a child's age. For instance, children younger than age 14 shouldn't throw more than 125 pitches a week without adequate rest between outings. These pitch limits can save your child from a shoulder injury now and into adulthood.
Other steps you can take to prevent an overuse injury include:
If your child complains of pain or fatigue, don't let him or her continue to play. Working through the pain can worsen the injury. Decreased throwing velocity can be an early sign of an overuse injury.

Gradually increase your child's practice time. An increase of no more than 10% a week of an activity is best.

Make sure your child learns the proper mechanics of pitching. Discourage your child from throwing curve balls until he or she has mastered the basics.

Encourage your child to stay fit year round—not just during baseball season.

Make sure your child takes time off during the year. Experts recommend no overhead throwing for at least 2 to 3 months.
Find out how to prevent all types of sports injuries that affect children.
Online resources
National Institute of Arthritis and Musculoskeletal and Skin Diseases
Updated: &nbsp
March 21, 2017
Sources: &nbsp
Acromial Apophysiolysis: Superior Should Pain and Acromial Nonfusion in the Young Throwing Athlete. J.B. Roedl, et al. Radiology. 2015;274(1):201-9., Arm Pain in Youth Baseball Players: A Survey of Healthy Players. E.C. Makhni, et al. American Journal of Sports Medicine. 2015;43(1):41-6., Epidemiology of Overuse Injuries Among High-School Athletes in the United States. A. Schroeder, et al. Journal of Pediatrics. 2014. Published online ahead of print, doi: 10.1016/j.jpeds.2014.09.037., Overuse Injuries and Burnout in Youth Sports: A Position Statement from the American Medical Society for Sports Medicine. J. DiFiori, et al. Clinical Journal of Sport Medicine. 2014;24(1):3-20.
Reviewed By: &nbsp
Turley, Ray, BSN, MSN