Maximizing Your Teaching Moments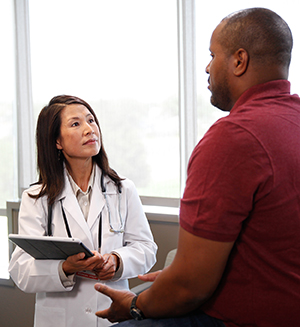 During each clinical encounter, there are moments that arise naturally as ideal "teaching moments." Here's a quick summary of how to apply the ideas to a typical patient encounter to build trust and compliance.
As you say hello
As you enter the room, greet the patient by name. Introduce yourself as needed.

Acknowledge any family members who are present by shaking hands or making eye contact.

Acknowledge the wait, if there was one.

Ask an open-ended question about the reason for the visit to get a sense of the patient's mindset and emotional state.

If a patient has several reasons for the visit, prioritize them together. This way you can focus on dealing with the primary concern.
As you ask questions
Keep eye contact and listen for potential barriers to successful treatment.

Show your empathy for a patient's situation. Acknowledge his or her emotional state. This validates the patient's concern or fear.

Try to frame your dialog using a patient's own words and level of medical sophistication.
As you explain
Keep a clear focus on the diagnosis, procedure, self-care, or other information you're delivering.

Watch for changes in the patient's body language or voice that signal fear or incomprehension. Adjust your explanation accordingly.

Give your reasons for tests, treatment, or medicine to encourage a patient's sense of working together.

Use patient education materials to reinforce your message.
Before a patient leaves
Get a repeat demonstration of skills a patient needs to master.

Ask an open-ended question to check their understanding of skills.

Clearly state one achievable goal a patient can work toward before the next visit. This can help your visits feel successful.
After the visit
You or a staff member can note in a patient's chart any booklets, videos, or other materials you've given out. This can aid informed consent or improve patient understanding.

You might also note any communication challenges. These include low-literacy skills (or highly literate Internet skills) to help the next visit go more smoothly for you and the staff.
Updated: &nbsp
April 20, 2018
Sources: &nbsp
ABCDs of Professional Introductions: Teaching Nursing Students the Most Fundamental of All Communication Skills. Burke M. Nurse Educator. 2016;41(3):115-16., Patient-education tips for new nurses. Smith J. Nursing 2016. 2013;43(10):1-3.
Reviewed By: &nbsp
Dozier, Tennille, RN, BSN, RDMS,Image reviewed by StayWell art team.,Sudheendra, Deepak, MD