Umbilical Cord Care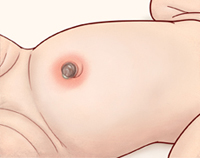 Proper care can help your baby's umbilical cord heal. Do not pull or pick at the cord. It should fall off on its own within 2 weeks after the birth. Use the steps below as a guide.
Caring for your baby's umbilical cord
To help prevent infection and keep the cord dry:
Keep the cord open to the air.

Fold down the top edge of the diaper, so the diaper will not cover or rub against the cord.

Avoid clothing that constricts the cord.

Do not place the baby in bath water until the cord has fallen off and the area where the cord was attached is dry and healing. Instead, bathe your baby with a damp wash cloth.

Do not try to remove the cord. It will fall off on its own.
Call your baby's healthcare provider
Contact your baby's healthcare provider if you see any of the following:
Redness or swelling around the cord

Discharge or bad odor coming from the cord

The cord doesn't fall off by 4 weeks after the birth

Your baby has a fever (see Fever and children, below)
Fever and children
Always use a digital thermometer to check your child's temperature. Never use a mercury thermometer.
For infants and toddlers, be sure to use a rectal thermometer correctly. A rectal thermometer may accidentally poke a hole in (perforate) the rectum. It may also pass on germs from the stool. Always follow the product maker's directions for proper use. If you don't feel comfortable taking a rectal temperature, use another method. When you talk to your child's healthcare provider, tell him or her which method you used to take your child's temperature.
Here are guidelines for fever temperature. Ear temperatures aren't accurate before 6 months of age. Don't take an oral temperature until your child is at least 4 years old.
Infant under 3 months old:
Ask your child's healthcare provider how you should take the temperature

Rectal or forehead (temporal artery) temperature of 100.4°F (38°C) or higher, or as directed by the provider

Armpit (axillary) temperature of 99°F (37.2°C) or higher, or as directed by the provider
Child of any age:
Repeated temperature of 104°F (40°C) or higher, or as directed by the provider
Updated: &nbsp
October 03, 2017
Sources: &nbsp
Care of the umbilicus and management of umbilical disorders. UpToDate., UptoDate: Overview of the Routine Management of the Healthy Newborn Infant
Reviewed By: &nbsp
Adler, Liora C., MD,Freeborn, Donna, PhD, CNM, FNP,Image reviewed by StayWell medical illustration team.,Turley, Ray, BSN, MSN