Breastfeeding: Caring for Yourself
When you have a new little person in your life, it's easy to forget about yourself. There are new demands on your time. There are also new responsibilities. But it's important to take care of yourself. This will help you take better care of your new baby.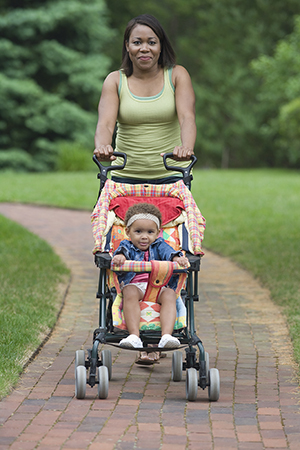 Healthy habits
Here are some healthy tips:
Get exercise when you can. If you leak milk, it will help to nurse right before the activity.

Avoid smoking. Smoking is unhealthy for you and may cause you to make less milk. Secondhand smoke is also harmful to your baby.

Talk to your healthcare provider about alcohol, if you choose to drink.

When you're sick, tell your healthcare provider that you are breastfeeding. Few medicines and illnesses affect breastfeeding, but it is important to check.

Ask your healthcare provider before taking any prescription or over-the-counter medicines, herbs, or supplements.
Comfy clothes
Suggestions for being comfortable when breastfeeding include:
Find a comfortable nursing bra. Many women find underwire uncomfortable. Some stores offer on-site fittings. Ask your healthcare provider or nurse for a referral.

If you have leaking milk, place breast pads inside your bra.

Choose an extra-supportive bra for exercise. Or you can wear two bras at the same time for more support.

Wear loose tops that can be lifted for breastfeeding. You can also buy clothes specially made for breastfeeding moms.
A note about sex
After delivery, it may take a while before your interest in sex returns. Share your feelings with your partner. Your healthcare provider will let you know when it is safe to resume having sex. When you're ready, know that:
There are several forms of birth control that can be used while breastfeeding. Ask your healthcare provider what to use for pregnancy prevention while you are nursing.

Breastfeeding hormones may cause vaginal dryness. Some women find using a water-based lubricant makes sex more comfortable.

Milk may leak out when you are aroused. Applying pressure on the nipple, using breast pads, or a towel may help with this.
When to call your healthcare provider
Call your healthcare provider if:
You feel overwhelmed and don't know where to turn.

You feel very sad or don't want to be with your baby.

You feel like your baby cries all the time and won't be soothed.

You are unable to exercise, or have sex, without discomfort.

You are unsure about a medicine, illness, or activity and its effect on breastfeeding.
Updated: &nbsp
July 27, 2018
Reviewed By: &nbsp
Adler, Liora C, MD,Freeborn, Donna, PhD, CNM, FNP,Image reviewed by StayWell art team.