Take a "Vacation" from Cancer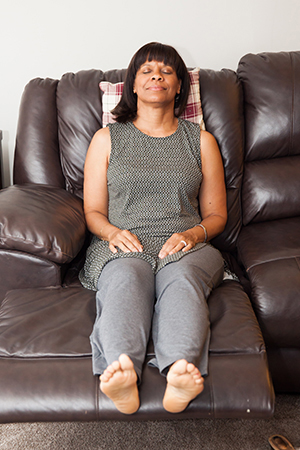 Cancer is a difficult diagnosis to deal with, whether it's you or a loved one facing the condition. You may find yourself battling both the emotional stress and strain of coping with cancer and the physical challenges of the illness and its treatment.
From time to time, you may benefit from taking a break from your condition, even if you can't leave your illness completely behind. This "vacation" from cancer can come in many forms. It can be as simple as using relaxation techniques that bring you some peace and tranquility during cancer treatment sessions. Or, it can be as luxurious as indulging in a getaway.
Creating a retreat at home
One of the simplest ways to take a vacation from cancer doesn't even involve leaving your own home. You can give yourself a mental vacation by using relaxation techniques.
Relaxation is also helpful during cancer treatments like chemotherapy, which can be mentally and physically taxing. For this reason, the American Cancer Society (ACS) recommends relaxation techniques. These include muscle tension and release, rhythmic breathing, biofeedback, mental imagery, visualization, hypnosis, and distraction in the form of a favorite hobby or just watching TV. All of these relaxation techniques can help take your mind off the stress of cancer treatment, at least for a little while.
Another way to get an emotional break is to connect with other cancer survivors for support and encouragement. The Cancer Survivors Network (CSN) was established to answer this need. It provides support groups and survivor programs for people looking for help, encouragement, and friendship from their peers. You can find more information and specific programs in your region at the CSN website.
Ideas for a real getaway
Sometimes, you need to take a true vacation from cancer and all the challenges that it presents. When you're up to traveling, you can find opportunities for relaxation and healing in the form of camps, programs, and retreats.
For children with cancer, a specialized summer camp can be a fun diversion. The ACS regional divisions often sponsor these camps. For instance, the New England division offers YMCA Camp Jewell in Colebrook, Connecticut, YMCA Camp Jordan in Ellsworth, Maine, and Camp Aldersgate in North Scituate, Rhode Island. Camps for kids with cancer are available in many states. For more information, visit the ACS website or call 800-227-2345. You can talk with a cancer information specialist who can get you registration information for a camp in your area.
For adults coping with cancer, cancer retreats allow you to focus on your treatment in a relaxed, sometimes exotic locale, including the Kokolulu Cancer Retreat in Hawaii, the Commonweal Cancer Help Program in California, and the Harmony Hill Retreat Center in Washington state. A simple Google search can help you find a cancer retreat in your area, or even on the other side of the country.
Updated: &nbsp
June 21, 2018
Reviewed By: &nbsp
LoCicero, Richard, MD,Sather, Rita, RN