Preventing Cancer
Many cancer cases are linked to lifestyle. Healthy lifestyle choices can help lower your risk for cancer and many other diseases. They can also improve your overall health.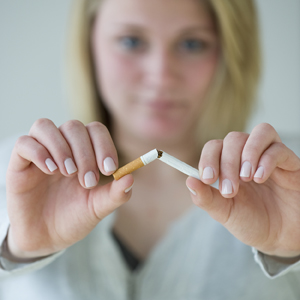 Stop smoking
Talk with your healthcare provider about aids for quitting, such as nicotine patches and some prescription medicines.

Get help from ex-smokers.

Create a plan for quitting.

Pick a quit date and stick to it.
Stay at a healthy weight
Get to and stay at a healthy weight all your life.

If you're overweight, losing even a little weight is good for you.
Keep active
Get regular physical activity.

Take walks, garden, or do other activities you enjoy each day.

Do errands on foot or bike, not by car.

Join a walking or biking club.

Limit the time you spend sitting to do things like watch TV, play video games, or use a computer.
Eat a healthy diet
Eat fewer red meats and processed meats.

Eat at least 2.5 cups of fruits and vegetables daily, especially leafy greens.

Eat more whole grains instead of refined grain products.

Limit alcohol to 2 drinks a day for men and 1 drink a day for women.

Limit high-calorie foods and drinks.

Read food labels to be more aware of calories and portion sizes.
Protect yourself from hazards
When outside during the day, use sunscreen that is broad-spectrum and SPF 30 or greater.

When out in sunlight, wear a hat and sunglasses.

Seek shade in the middle of the day when the sun is hottest.

Be aware of all hazardous products at work or in your home.

When working with hazardous products, wear protective clothing
Talk with your provider about cancer screenings
Regular screening can help prevent some types of cancer, such as cervical and colorectal cancer. Regular screening for these cancers can find and remove abnormal areas before they become cancer. For some other types of cancer, screening may help find cancer early, when it's small. This is when treatment is most likely to be effective. Here are some ways you can screen for certain cancers:
Breast cancer. Breast self-awareness and mammogram.

Skin cancer. Self-exam, professional exam, biopsy of any changes that might be cancer.

Cervical cancer. Pap test, HPV test.

Colorectal cancer. Screening for blood or DNA in stool, colonoscopy or other tests to look inside the colon.

Prostate cancer. PSA blood test with or without a digital rectal exam.

Testicular cancer. Self-exam, professional exam.
Talk with your healthcare provider about your family history and your cancer risk. Together you can decide on the cancer screening plan that's best for you.
Updated: &nbsp
October 15, 2017
Reviewed By: &nbsp
Cunningham, Louise, RN,Stump-Sutliff, Kim, RN, MSN, AOCNS,Image reviewed by StayWell art team.