Taking an Active Role in Your Medicines
Take the time to learn about your medicine. For instance, why are you taking it? What does it do? Work with your healthcare providers to get the answers you need.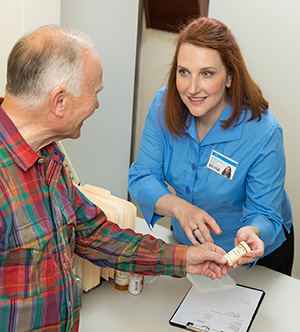 Ask questions about your medicine
Find out the following information:
What is the name of the medicine?

Why do I need to take it? When should I take it?

How should I take it: with water? with food? on an empty stomach?

How much do I take?

What do I do if I miss a dose?

What side effects could it cause and which ones should I call the healthcare provider about?

Are there any foods or medicines I should avoid while taking this medicine?

Will this medicine change how my other medicines work?
Take an active role
Actions to take include the following:
Fill all your prescriptions at the same pharmacy. This keeps your medicine history in one place.

Talk to the pharmacist. Make sure you understand how to take each medicine. Ask for a fact sheet about each one.

Tell your healthcare provider and pharmacist about all the prescription and over-the-counter medicines you take. This includes vitamins, nutrition or health supplements, alcohol or other drugs, and herbal remedies.

Tell your healthcare provider and pharmacist if you have any medical conditions or allergies to any medicine or food, or if you are pregnant or breastfeeding.

Keep a list of all your medicines. Use the sample to the right as a guide for the type of information needed.
Name of medicine:

Taken for:

Dose:

Time(s) to take it:

Updated: &nbsp
February 27, 2018
Reviewed By: &nbsp
Buslovich, Steven, MD,Freeborn, Donna, PhD, CNM, FNP,Images Reviewed by Staywell medical art team.