Complementary Healthcare: Getting the Answers You Need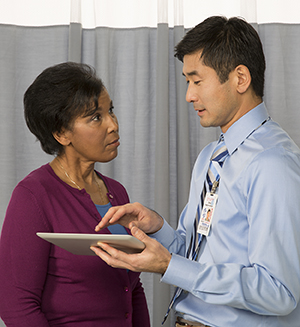 Whether or not to get complementary care depends on many factors. Talk with your medical doctor and to different complementary caregivers. They'll offer some answers that can help you decide.
Ask your medical doctor
What concerns do you have about complementary healthcare?

Will this care interfere with my current treatment in any way?

Have you worked professionally with a complementary caregiver? Will you work with one now?

Do you recommend any type of care or a specific care provider?
Ask the complementary care provider
What benefits can I expect from this care?

What, if any, side effects does this type of care have?

Have you had success treating people with my health problem?

Will you work with my medical doctor?

What licensing, certification, and membership in professional organizations do you have?
Resources
Research complementary healthcare in your local library, on the Internet, or contact:
American Association of Naturopathic Physicians www.naturopathic.org

American Association of Acupuncture and Oriental Medicine www.aaaomonline.org

American Chiropractic Association www.acatoday.org

American Massage Therapy Association www.amtamassage.org

Center for Mind-Body Medicine www.cmbm.org

National Center for Complementary and Alternative Medicine www.nccih.nih.gov.health

Yoga Alliance Registry www.yogaalliance.org
Updated: &nbsp
November 20, 2017
Reviewed By: &nbsp
Brown, Kim, APRN,Finke, Amy, RN, BSN,Image reviewed by StayWell art team.