Understanding Bradycardia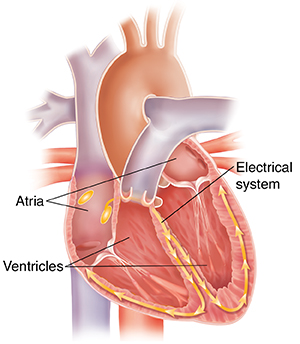 Your heart has an electrical system that sends signals to control the heartbeat. Any abnormal change in the speed or pattern of the heartbeat is called an arrhythmia. An arrhythmia that causes the heart to beat slower than normal is called bradycardia. There are many types of bradycardia. In healthy children and adults, bradycardia is often normal, particularly during sleep. Sometimes bradycardia is caused by failure of the heart's natural timer or failure of the electrical pathways within the heart. Depending on the type you have and how severe it is, you may need treatment.
What causes bradycardia?
Many things can cause bradycardia, including:
Natural aging process

Coronary artery disease

Heart attack

Heart muscle disease

Problems with the SA node. This is the heart's natural pacemaker that starts each heartbeat.

Problems with the electrical pathways in the heart

Problems with the structure of the heart that you are born with

Infection

Use of certain medicines

Electrolyte imbalance

Underactive thyroid

Sleep apnea

Increased pressure in the brain or stroke
Well-conditioned athletes often have a naturally slow heart rate.
What are the symptoms of bradycardia?
Bradycardia can cause a slow or irregular heartbeat. It can also make it harder for the heart to pump blood to the body. This may cause symptoms such as:
Tiredness

Weakness

Loss of ability to exercise

Shortness of breath

Dizziness or fainting

Chest pain

Heart failure
Some people with bradycardia have no symptoms at all.
How is bradycardia treated?
Treatment for bradycardia depends on the cause. It also depends on the type you have and how severe your symptoms are. If you need treatment, your options may include:
Treatment of the underlying cause. For instance, if a medicine is causing bradycardia, stopping the medicine, under your doctor's guidance, may correct the problem. Or if a condition such as an underactive thyroid is the cause, treating the thyroid may keep bradycardia from coming back.

Medicines. Medicines may be used to treat conditions that cause bradycardia. Some medicines can also be used in the short-term to increase the heart rate. These are often not long-term solutions.

Temporary pacing. Pacing is used to help regulate your heartbeat.When the heart beats too slowly, the device sends signals to keep the heart beating at the right pace. A temporary pacemaker may be connected to the heart using wires guided through a blood vessel in your neck or leg to the heart. This is also sometimes done using special pads placed on the chest. This may be used in an emergency, as a bridge to permanent pacing, when pacing is only needed short-term, or to further evaluate your condition.

Pacemaker. This is a device that is placed permanently under the skin in your chest and connected to your heart. When the heart beats too slowly, the device sends signals to keep the heart beating at the right pace.
What are the complications of bradycardia?
These can include:
Development of other types of arrhythmias

Heart failure. This problem occurs when the heart weakens so much that it no longer pumps blood well.

Sudden cardiac arrest. This is when the heart suddenly stops beating.
When should I call my healthcare provider?
Call your healthcare provider right away if you have any of these:
Symptoms that don't get better with treatment, or get worse

New symptoms
Updated: &nbsp
March 16, 2019
Sources: &nbsp
Hayes DL. Permanent cardiac pacing: Overview of devices and indications. Up To Date. November 13 ed: Up To Date; 2015. p. 22., Homoud MK. Sinus bradycardia. Up To Date. October 8 ed: Up To Date; 2015. p. 13., Stahmer SA. Bradyarrhythmias. In: Adams JG, editor. Emergency Medicine. 2 ed. Philadelphia: Saunders; 2013. p. 487-96., Tracy CM, et al. 2012 ACCF/AHA/HRS Focused Update Incorporated Into the ACCF/AHA/HRS 2008 Guidelines for Device-Based Therapy of Cardiac Rhythm Abnormalities. JACC (Journal of the American College of Cardiology). 2013 January 22;61(3):e6-e75.
Reviewed By: &nbsp
Steven Kang MD