Lifestyle and Medical History Affect Cancer Risk: Facts for Gay and Bisexual Men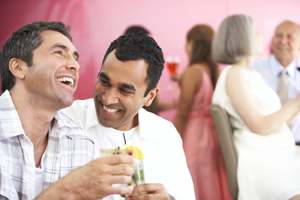 Gay and bisexual men are at higher risk of developing certain cancers. Those cancers to be most aware of are discussed here.
Lung cancer
Gay and bisexual men are more likely to smoke, which increases their risk for lung cancer. More than 33% of gay and bisexual men smoke, compared with slightly more than 21% of heterosexual men. Because about 87% of people with lung cancer developed it as a result of smoking, the increased risk is clear. If you have HIV, you also have a harder time recovering from lung diseases and may suffer more effects of smoking.
Anal cancer
Anal cancer is a fairly rare disease among heterosexual males. It's much more common among gay and bisexual men (the risk factor being anal sex with men). The risk of developing anal cancer is even greater if you've been exposed to the human papillomavirus, or HPV. The risk is also higher if you have had multiple sex partners, anal sex, or unprotected sex. Smoking is also linked to a higher risk for anal cancer. Having a weak immune system as a result of HIV also increases the risk.
Skin cancer
Skin cancer is a common cancer in people of any sexual orientation. Those who have fair skin, had severe sunburns at a young age, and have frequent and prolonged sun exposure are at the greatest risk of developing skin cancer. Having close family members with melanoma also puts a person at higher risk.
Prostate cancer
Prostate cancer tends to be more common in African-American men, those with a family history of prostate cancer, and men older than 50. Men who eat an unhealthy diet may also at an increased risk for prostate cancer. This type of diet includes a lot of high-fat dairy products and red meat.
Testicular cancer
Some studies have shown that men may be at a higher risk for testicular cancer if they have HIV or AIDS. About half of the testicular cancers occur in men between the ages of 20 and 34. Men who are white, who have undescended testicles, and who have a family history of testicular cancer are also at an increased risk.
Colon cancer
Men who have inflammatory bowel disease or have had colon or rectal polyps have a greater risk for colon cancer. A personal or family history of colon cancer also increases risk. It's most common in people who are 50 and older. And lifestyle factors, such as smoking, being overweight, being sedentary, and eating an unhealthy diet (particularly lots of red meat and processed meats), play a role in the risk for colon cancer.
If you have risk factors for any of these cancers, limit your risk by eating a healthy diet, exercising, and not smoking. It's also important to get regular checkups and cancer screening tests. These visits play a role in overall health. They will help allow early detection and treatment of any problems that arise.
Updated: &nbsp
June 28, 2018
Reviewed By: &nbsp
LoCicero, Richard, MD,Sather, Rita, RN